Order of the Snowflake
The Order of the Snowflake is the second highest Order of Westarctica. The intention of the order is to honor those who have provided a service to Westarctica. It was created in January 2015.
There are four classes of the order:
Knight/Dame Grand Cross
Knight/Dame Grand Commander
Knight/Dame Commander
Knight/Dame
Only the Grand Duke himself has the power to bestow new knighthoods and thus far, he has awarded the medal to foreign dignitaries, artists, prominent nobles, and other supporters of Westarctica. All knights and dames receive the regalia of the class being bestowed; the Order of the Snowflake is always awarded for life. Membership entitles the bearer to attach the post-nomial "KtS" ("Knight of the Snowflake") or "DtS" ("Dame of the Snowflake") following their name in correspondence and other forms of written address (business cards, place settings, calling cards, etc.).
Distribution of classes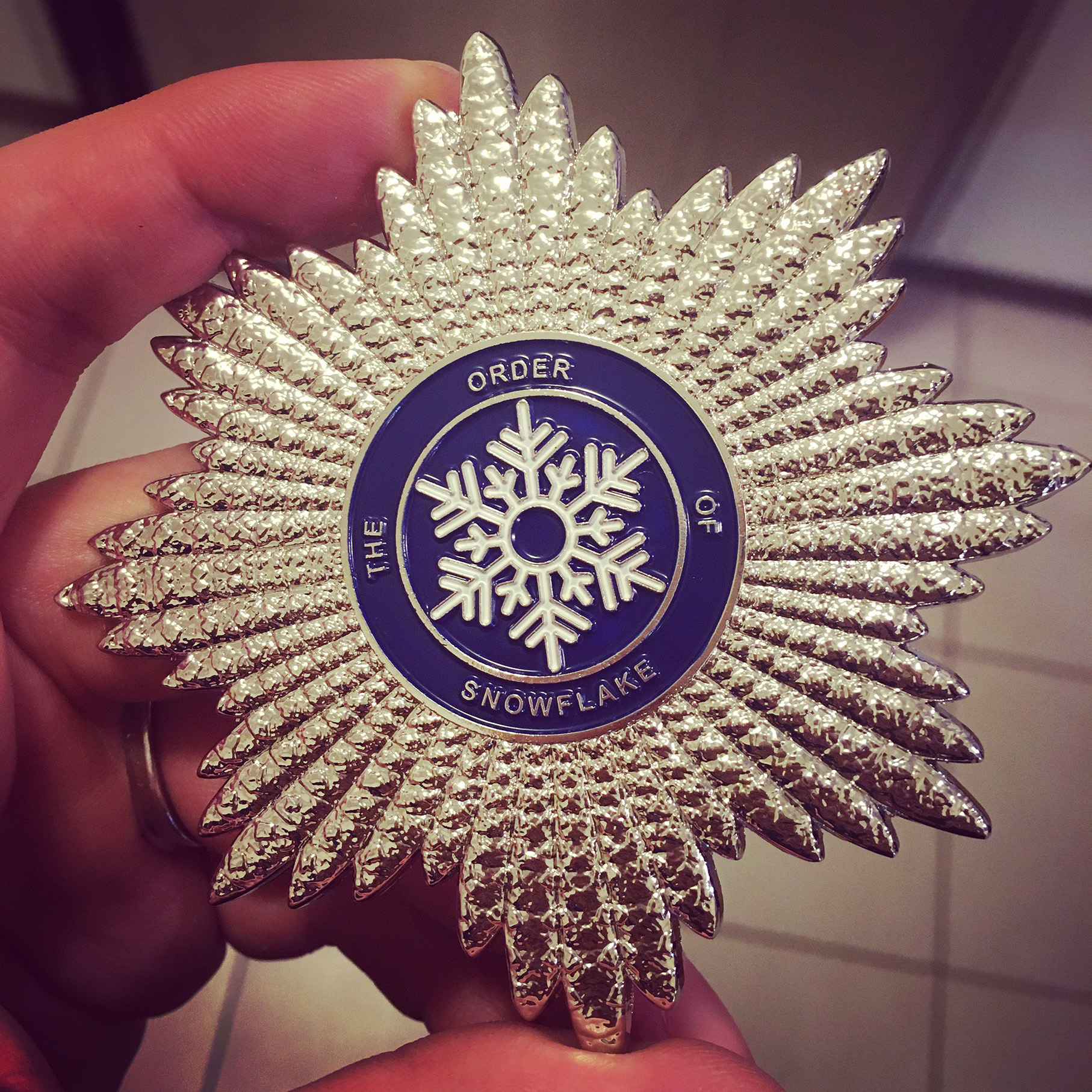 Initially, the class of Knight was intended to be the most commonly bestowed grade. However, in 2016 the Grand Duke found a reliable source for high quality regalia and decided to make Knight Commander the primary class of the order. The class of Knight is still bestowed on certain occasions, often to foreign diplomats where the class of Knight Commander might not be appropriate when that same grade is already held by the recipient's Head of State or Head of Government.
The highest grade, that of Knight Grand Cross, is reserved for Heads of State and members of the Royal Family.
On 12 August 2020, Grand Duke Travis created the additional class of Knight Grand Commander as a way to further recognize distinguished service from existing knights and dames.
List of Knights Grand Cross
List of Knights Grand Commander
List of Knights / Dames Commander
List of Knights / Dames
| Name | Year of appointment | Reason for appointment | Notes |
| --- | --- | --- | --- |
| 2nd Viscount of Reynolds | 2015 | Devotion to Westarctica | |
| Prince Christopher, Duke of Hudson | 2015 | Allied Head of State | Awarded during reign as King Christopher of Vikesland |
| Victoria Kordysh | 2015 | Achievement in film production | |
| Gary Nicholson | 2015 | Achievement in film production | |
| Baron Stogner | 2015 | Services to Westarctica | |
| Prince Arthur of the House of Homestead | 2015 | Allied Head of State | |
| Grand Duke Jacob of Broslavia | 2015 | Foreign Head of State | |
| Baron of Forrester | 2015 | Services to Westarctica | |
| Kenny E. Marchant, Jr. | 2015 | Devotion to Westarctica | |
| Katie Bellis Miller of Molossia | 2015 | Devotion to Westarctica | |
| Natalie George | 2015 | Devotion to Westarctica | |
| Baron Omar Cisneros of Flandrensis | 2017 | Foreign government official | |
| Minister Matthew Salzer of Ladonia | 2018 | Foreign government official | |
| Francesco Alvaro Ronchi | 2018 | Service as Honorary Consul to Italy | |
| Barbara Bryan | 2019 | Devotion to Westarctica | |
| Christine Wood | 2019 | Devotion to Westarctica | |
| Andrew Lauterbach | 2020 | Devotion to Westarctica | |
| Danni Michele | 2020 | Service as Minister of Communications | |
Gallery of Investitures