Difference between revisions of "Template:Westarctica.wiki:Today's featured article"
Line 1:
Line 1:
−

[[File:Nationwide map.jpg|300px|left]]

+

[[File:.jpg|300px|left]]

−

'''[[Westarctica]]''' is an area of desolate land in Western Antarctica south of 60° latitude and between 90° and 150° west longitude, an area that was unclaimed until [[Grand Duke Travis|Travis McHenry]] claimed it by filing a [[Claimant Letter|claimant letter]] with nine world governments, a declaration of status not recognized by most established countries, in 2001. The territory consists of the majority of [[Marie Byrd Land]] and a large proportion of [[Ellsworth Land]] with a few additional non-contiguous claims. It has no year round residents, although seasonal research stations are located in the region. The nation of Westarctica was founded though a loophole in the [[Antarctic Treaty]].

+

'''[[]]''' between [[]] , a of , in . the of a of [[]] -. in the of a .

 
 
−

The [[government of Westarctica]] is headed by the [[Grand Duke of Westarctica]], and administered with the assistance of the [[Royal Council]]. The Royal Council is overseen by the [[Prime Minister of Westarctica|Prime Minister]], who is elected democratically and serves a four-year term. There is no official legislative body, however the collected nobles of the [[Peerage of Westarctica]] are frequently consulted on major issues and serve as a sounding board for ideas in the government.

+

The by the [[of ]], the [[]]. the of a , the the .

 
 
−

'''([[Westarctica|Full Article...]])'''

+

 

 
+

'''([[|Full Article...]])'''
---
Revision as of 18:29, 10 February 2020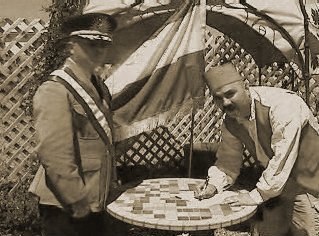 The Molossia-Mustachistan War took place from 22 May - 8 June 2006, between the Republic of Molossia and Molossia's puppet state, the nation of Mustachistan. The roots of the conflict lay in conflicting territorial claims, a situation aggressively pursued by Mustachistan. Following the outbreak of armed conflict in late May 2006, the Mustachistanis were defeated in three separate battles and sued for peace. Mustachistan was the tongue-in-cheek creation of a friend of President Baugh of Molossia, who called himself Sultan Ali-Ali Achsenfree. Sultan Ali founded his own nation not only to participate in the world of small nations, but also as a bit of competition for Molossia.
The Molossian Naval Infantry was slowed by weather in late May in its advance against Mustachistani forces. However, as events unfolded slowly in the west, the nascent Eastern Front exploded into activity with a battle on Lake Jean, near the Protectorate of New Antrim. Lake Jean had been the target of Mustachistani forces seeking not only to gain a foothold in New Antrim, but also to divert resources from the developing campaign near the Molossian Home Territories.