Exercise: Westarctic Chill
Jump to navigation
Jump to search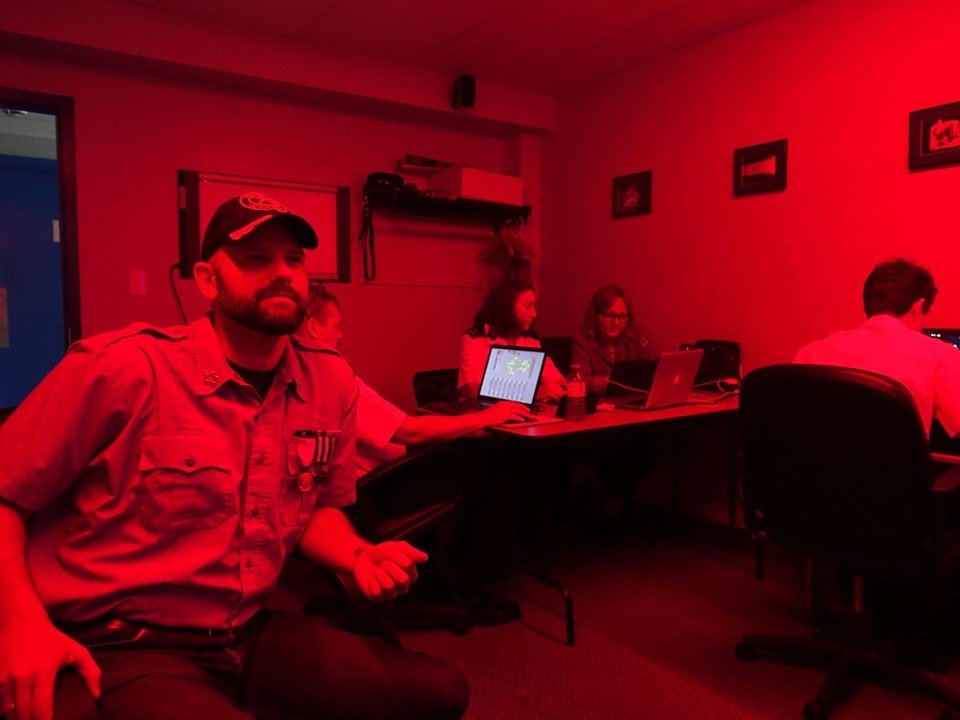 Exercise: Westarctic Chill was a joint Command and Control (C2) military exercise conducted by Westarctica and Slabovia on 5 August 2019 in Dundas, Ontario, Canada. It marked the fourth time Grand Duke Travis had participated in a joint military operation with another micronation.
USS Don Quixote simulator
The exercise was conducted inside a Command and Control simulator room that utilized the Artemis: Spaceship Bridge Simulator program. This software was originally released in 2010 and is designed to be played between three and eight players over a local area network. In a manner similar to the television show Star Trek, each player uses a separate computer that controls a specific spaceship bridge station.
The Slabovian "Navey" has a long history of running complex Artemis simulations in their dedicated C2 simulator, which has been christened the USS Don Quixote. Their typical configuration includes computer terminals for helm, weapons, science, engineering, and communications. There is also a separate chair for the captain with a large viewscreen that is visible to the entire bridge. In the past, more challenging simulations have included the use of separate personnel spread out in different rooms communicating with the bridge via two-way radios.
Exercise summary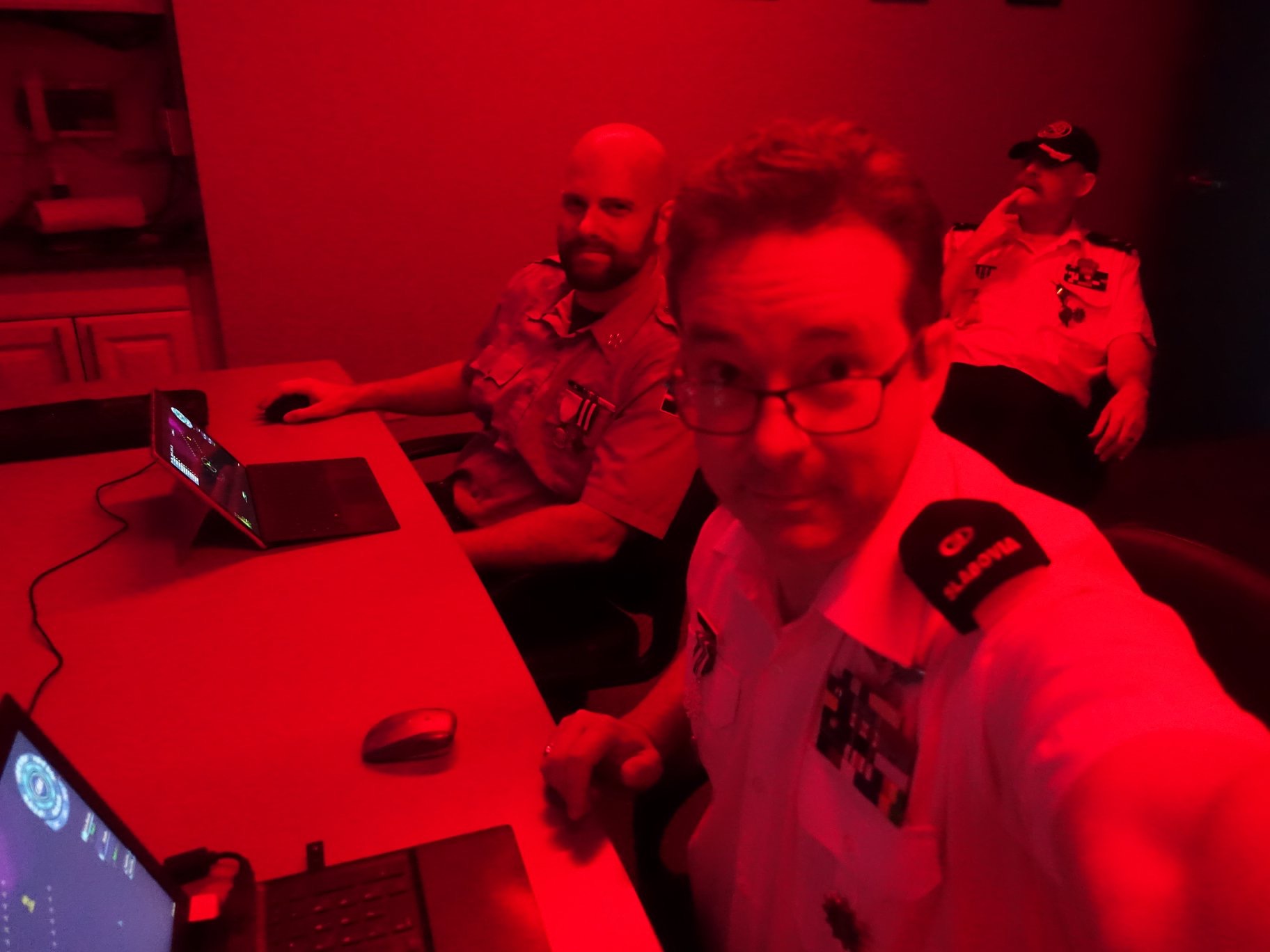 Prior to the exercise, Grand Duke Travis created a Naval Detachment to augment the Westarctican Royal Guards and held a ceremony for the Countess of Benton, who was commissioned as a lieutenant.
King George II of Slabovia served as mission commander and controlled the bridge activities from the captain's chair in the center of the room. In the initial bridge configuration, Chancellor Rankin MacGillivray sat at the helm, Grand Duke Travis controlled the weapons, Spencer MacGillivray manned the science station, Chris Mercer served as chief engineer, and Janet Mercer assisted the Countess of Benton at the communications terminal. As the exercise progressed, most personnel shifted to different stations to help increase their technical proficiency.
After running four successful missions, King George turned over the captain's hat and chair to Grand Duke Travis, who enthusiastically took control of the ship and crew for the final voyage. Under his command, the USS Don Quixote engaged and destroyed four enemy fleets, preventing a large-scale invasion of the sector they were tasked with defending. In a show of her diplomatic skill as communications officer, the Countess of Benton persuaded two enemy commanders to surrender rather than face destruction.
Aftermath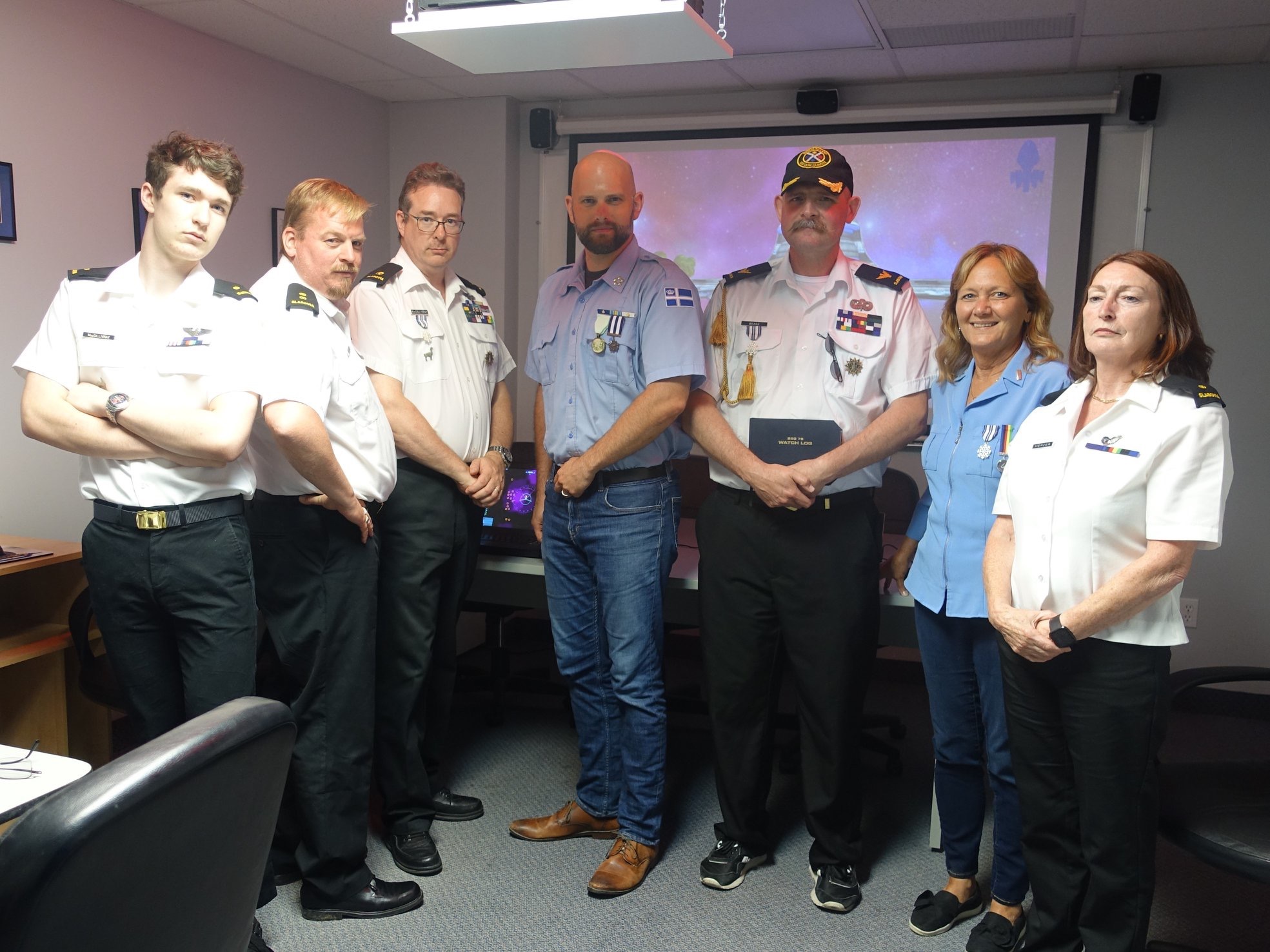 Following the conclusion of the successful exercise, the joint commanders and their crews posed for a group photo in front of the main viewscreen before declaring the operation at an end. All Slabovian Navel officers were awarded knighthoods in the Noble Order of the Sword in recognition of their excellent performance in the exercise.
External links