George R. Toney
Jump to navigation
Jump to search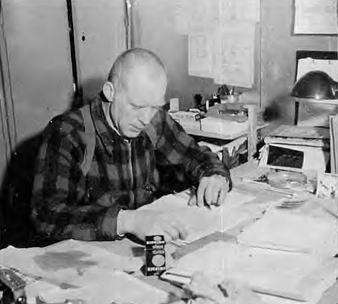 George R. Toney was a scientist who worked in Antarctica during the International Geophysical Year in 1957.
Biography
During World War II, Toney served as an interpreter in France and Belgium. After the war, he worked for the Weather Bureau in the Arctic.
Time in Antarctica
Toney became a scientist for the National Science Foundation and participated in several expeditions to the Antarctic. He was the head of Byrd Station during the International Geophysical Year in 1957 where he was in charge of 13 scientists, civilians, and military personnel. Their research centered around trying to determine whether or not the West Antarctic Ice Sheet actually rested on land. It was Toney's first time wintering over in Antarctica.
During his time at Byrd Station, Toney speculated that the reason the station was built in the dead center of the unclaimed sector of Marie Byrd Land was so "the United States might well launch a claim later on, if it came to that."
Law career
After 25 years with the federal government, Mr. Toney retired and entered the first class of the Antioch School of Law in Washington, DC. He subsequently spent 25 years working with juvenile delinquents through the Superior Court of DC before retiring again.
Death
Toney died at age 89 of lung cancer on 17 January 2008. He was survived by his wife, Sara, and his son, Stephen. His memorial service was held at the River Road Unitarian Universalist Congregation, of which he had been a member for 50 years.
Legacy
Toney Mountain in Westarctica is named in his honor.
External links