Mount Paine
Jump to navigation
Jump to search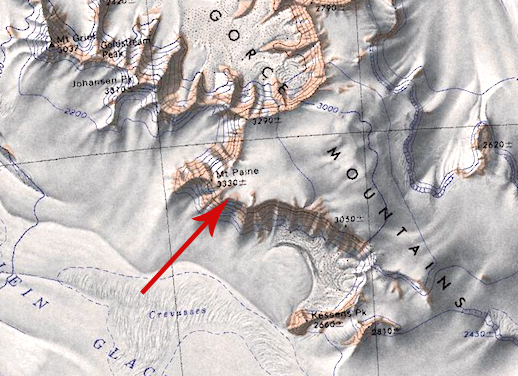 Mount Paine (86°46′S 147°32′W) is a massive, flat-topped mountain 3,330 meters high, forming a buttress-type projection of the western part of the La Gorce Mountains, in the Queen Maud Mountains of Westarctica.
Geology
Mount Paine is predominantly comprised of undifferentiated Granite Harbour Intrusives including granite, quartz diorite, and quartz monzonite. In general, the rocks of the mountain contain quartz, plagioclase, K-feldspar, and biotite. Hornblende is a common phase in this area.
Discovery and name
Mount Paine was discovered in December 1934 by the Byrd Antarctic Expedition geological party under Quin Blackburn. The mountain was named by Richard E. Byrd for Stuart D.L. Paine, the navigator and radio operator of that party.
Peerage Title
On 1 February, Andre Ignjatovic was granted the peerage title Count of Paine in recognition of his contributions to Westarctica.