Principality of Sealand
Jump to navigation
Jump to search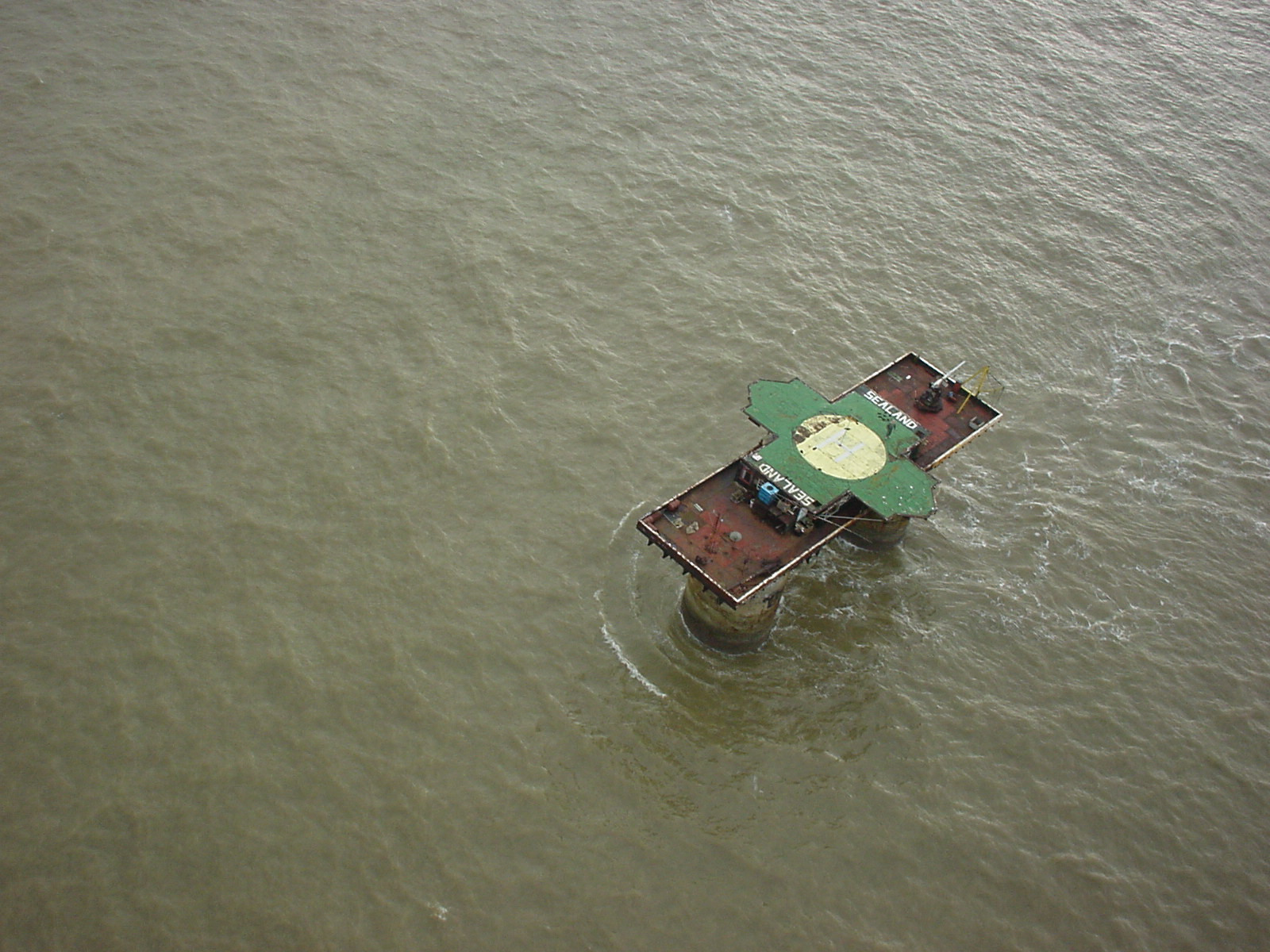 The Principality of Sealand, more commonly known as Sealand, is a micronation that claims Roughs Tower, an offshore platform located in the North Sea approximately 12 kilometers (7.5 mi) off the coast of Suffolk, England, as its territory. Roughs Tower is a disused Maunsell Sea Fort, originally called HM Fort Roughs, built as an anti-aircraft defensive gun platform by the British during World War II.
Since 1967, the decommissioned HM Fort Roughs has been occupied by family and associates of Paddy Roy Bates, who claim that it is an independent sovereign state. Bates seized it from a group of pirate radio broadcasters in 1967 with the intention of setting up his own station at the site. He attempted to establish Sealand as a nation-state in 1975 with the writing of a national constitution and establishment of other national symbols.
While it has been described as the world's smallest country or nation, Sealand is not officially recognized by any established sovereign state in spite of Sealand's government's claim that it has been de facto recognized by the United Kingdom and Germany. The United Nations Convention on the Law of the Sea in force since 1994 states "Artificial islands, installations and structures do not possess the status of islands. They have no territorial sea of their own, and their presence does not affect the delimitation of the territorial sea, the exclusive economic zone or the continental shelf". Since 1987, Sealand lies within the territorial waters of the United Kingdom.
Bates moved to the mainland when he became elderly, naming his son, Michael, as regent. Bates died in October 2012 at the age of 91. Michael lives in Suffolk, England.
Legal status
The claim that Sealand is an independent sovereign state is based on an interpretation of a 1968 decision of an English court, in which it was held that Roughs Tower was in international waters and thus outside the jurisdiction of the domestic courts.
In international law, the most common schools of thought for the creation of statehood are the constitutive and declaratory theories of state creation. The constitutive theory is the standard nineteenth-century model of statehood, and the declaratory theory was developed in the twentieth century to address shortcomings of the constitutive theory. In the constitutive theory, a state exists exclusively via recognition by other states. The theory splits on whether this recognition requires "diplomatic recognition" or merely "recognition of existence." No other state grants Sealand official recognition, but it has been argued by Bates that negotiations carried out by Germany following a brief hostage incident constituted "recognition of existence" (and, since the German government reportedly sent an ambassador to the tower, diplomatic recognition). In the declaratory theory of statehood, an entity becomes a state as soon as it meets the minimal criteria for statehood. Therefore, recognition by other states is purely "declaratory."
In 1987, the UK extended its territorial waters from 3 to 12 nautical miles (6 to 22 km). Sealand now sits inside British waters. The United Kingdom is one of 165 parties to the United Nations Convention on the Law of the Sea (in force since 1994), which states in Part V, Article 60, that: "Artificial islands, installations and structures do not possess the status of islands. They have no territorial sea of their own, and their presence does not affect the delimitation of the territorial sea, the exclusive economic zone or the continental shelf." In the opinion of law academic John Gibson, there is little chance that Sealand would be recognized as a nation because it is a man-made structure.
In a 1990 court case (and a 1991 appeal) in the United States regarding registering ships in Sealand as a flag of convenience, the court ruled against allowing Sealand flagged vessels; the case was never contested by the Bateses.
Administration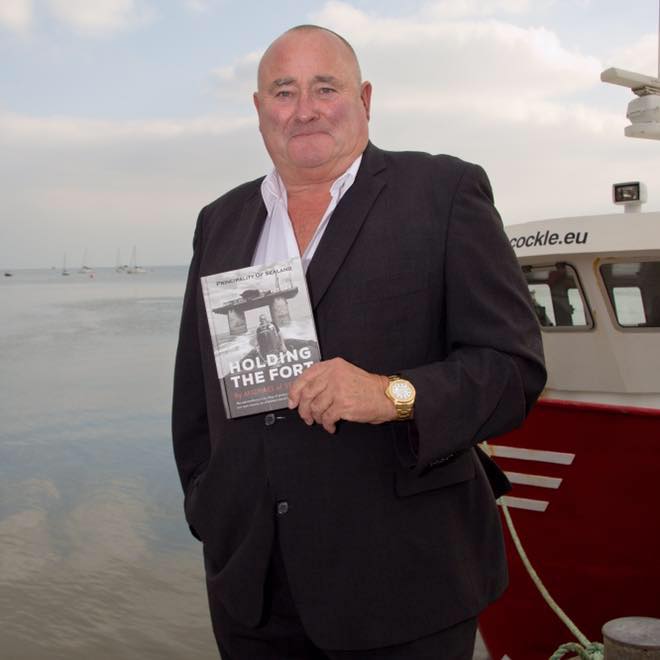 Irrespective of its legal status, Sealand is managed by the Bates family as if it were a recognized sovereign entity and they are its hereditary royal rulers. Roy Bates styled himself as Prince Roy and his wife Princess Joan. Their son (the current ruler of Sealand) is known as His Royal Highness Prince Michael and was referred to as the "Prince Regent" from 1999, until he became Prince in his own right. In this role, he apparently serves as Sealand's acting Head of State and also its Head of Government. At a micronations conference hosted by the University of Sunderland in 2004, Sealand was represented by Michael Bates' son James. The facility is now occupied by one or more caretakers representing Michael Bates, who himself resides in Essex, England.
Constitution and laws
Sealand's constitution was instituted in 1974. It consists of a preamble and seven articles. The preamble asserts Sealand's independence, while the articles variously deal with Sealand's status as a constitutional monarchy, the empowerment of government bureau, the role of an appointed, advisory senate, the functions of an appointed, advisory legal tribunal, a proscription against the bearing of arms except by members of a designated 'Sealand Guard', the exclusive right of the sovereign to formulate foreign policy and alter the constitution, and the hereditary patrilinear succession of the monarchy.
Sealand's legal system is claimed to follow British common law, and statutes take the form of decrees enacted by the sovereign. Sealand has issued "fantasy passports" (as termed by the Council of the European Union), which are not valid for international travel, and holds the Guinness World Record for "the smallest area to lay claim to nation status." Sealand's motto is E Mare Libertas (From the Sea, Freedom). It appears on Sealandic items – such as stamps, passports and coins – and is the title of the Sealandic anthem. The anthem was composed by Londoner Basil Simonenko; being an instrumental anthem, it does not have lyrics.
Business operations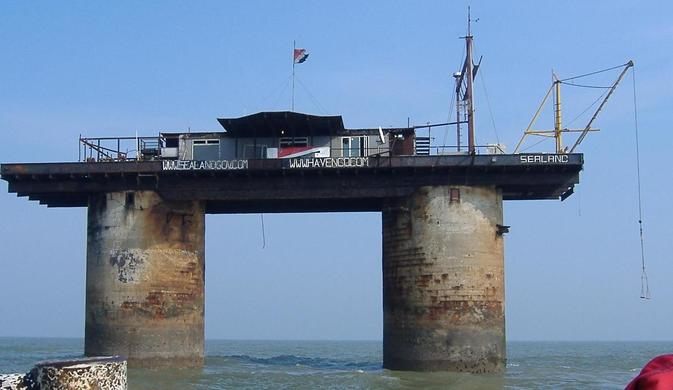 Sealand has been involved in several commercial operations, including the issuing of coins and postage stamps and the establishment of an offshore Internet hosting facility, or "data haven." Sealand also has an official website and publishes an online newspaper, Sealand News. In addition, a number of amateur athletes represent Sealand in sporting events, including unconventional events like the World Egg Throwing Championship, which the Sealand team won in 2008.
Coins and stamps
Several dozen different Sealand coins have been minted since 1972. In the early 1990s, Achenbach's German group also produced a coin, featuring a likeness of Prime Minister Seiger. Sealand's coins and postage stamps are denominated in Sealand dollars, which it deems to be at parity with the US dollar. Sealand first issued postage stamps in 1969, and issues through 1977. No further stamps were produced until 2010. Sealand is not a member of the Universal Postal Union, therefore its inward address is a PO Box in the United Kingdom. Once an item is mailed to Sealand's tourist and government office, it will then be taken to Sealand. Sealand only has one street address, The Row.
Titles of nobility
Sealand also sells titles of individual nobility including Lord, Baron, Count and those titles' distaff equivalents. Following Roy Bates' 2012 death, Sealand also began publicly offering knighthoods & Coats of Arms.
In 1978, following the invasion, the Knights of the Sovereign Military Order of Sealand were formed by Prince Roy and Prince Michael to provide for the Principality's defence should it come under threat or attack. In 2012, following the death of Prince Roy, membership in the Order was opened to sale to the general public.
HavenCo
Main article: HavenCo In 2000, worldwide publicity was created about Sealand following the establishment of a new entity called HavenCo, a data haven, which effectively took control of Roughs Tower itself; however, Ryan Lackey, HavenCo's founder, later quit and claimed that Bates had lied to him by keeping the 1990–1991 court case from him and that, as a result, he had lost the money he had invested in the venture. In November 2008, operations of HavenCo ceased without explanation.
On 22 August 2000, Prince Michael bought a dormant British company which was renamed HavenCo Limited. It was given the registration number of 04056934 by Companies House, an executive agency of the UK Department of Trade and Industry. The registered office of HavenCo Limited was recorded at 11 Kintyre House, Cold Harbour, London, E14 9NL England. The directors were listed as Michael Roy Bates, a citizen of the United Kingdom, who was named Chief Operating Officer, and Ryan Donald Lackey, a US citizen. Other founders included Sean Hastings, Jo Hastings, Avi Freedman, and Sameer Parekh was an advisor to the company. The company later relocated its registration to Cyprus.
HavenCo initially received broad coverage in the international media, appearing on the cover of Wired Magazine, in over 200 press articles, and in several television reports. In these reports, HavenCo claimed to have established a secure colocation facility on Sealand, and that it had commenced operations as a data haven. Detractors claim that these reports gave the impression that HavenCo was registered on Sealand itself, and that the company would issue domain names under the authority of that entity, whereas it had no entitlement to do so.
External links