Viscount Boschert
Jump to navigation
Jump to search
His Lordship
Viscount Boschert

Viscount Boschert

In Office
8 December 2019 - 4 March 2022
Preceded by
Title created
Succeeded by
Vacant
Consort
Simone Callahan
Issue
Brooke
Jackson
Summer
Father
Keith Warne
Mother
Brigitte Warne
Born
13 September 1969

Died
4 March 2022

His Lordship, Viscount Boschert, Shane Keith Warne (13 September 1969 – 4 March 2022) was a member of the Peerage of Westarctica from 2019 until his death in 2022. He is best known for his long and successful career as an Australian cricketer.
Career as a cricketer
Warne played his first Test match in 1992 and took more than 1,000 wickets in Tests and One Day Internationals (ODIs). Warne's 708 Test wickets was the record for the most wickets taken by any bowler in Test cricket until 2007. He was named one of the Wisden Cricketers of the Year in the 1994 Wisden Cricketers' Almanack, and was the Wisden Leading Cricketer in the World in 1997 and 2004. A useful lower-order batsman, Warne scored more than 3,000 Test runs, with a highest score of 99, and remains the highest Test runscorer without a century. As well as playing internationally, Warne played domestic cricket for his home state of Victoria and English domestic cricket for Hampshire. He was captain of Hampshire for three seasons from 2005 to 2007. Warne retired from international cricket in January 2007 at the end of Australia's 2006–07 Ashes series victory over England.
In 2007, Warne was named in Australia's greatest ever ODI team. He played in the first four seasons (2008–2011) of the Indian Premier League for the Rajasthan Royals, where he played the roles of both captain and coach, winning the competition in 2008. In the 150th anniversary of the Wisden Cricketers' Almanack, Warne was named in an all-time Test World XI. In 2012, he was also inducted into the Cricket Hall of Fame by Cricket Australia. In 2013, Warne was inducted into the ICC Cricket Hall of Fame. In February 2018, the Rajasthan Royals appointed Warne as their team mentor for the IPL 2018.
His career was plagued by scandals off the field, including a ban from cricket for testing positive for a prohibited substance, charges of bringing the game into disrepute with the John the bookmaker controversy and sexual indiscretions.
Warne revolutionised cricket thinking with his mastery of leg spin, which had come to be regarded as a dying art. After retirement, he regularly worked as a cricket commentator, predominantly on Australia's Nine Network. He worked for charitable organisations and also endorsed commercial products. In recognition of his skill, a statue of him bowling was placed outside the Melbourne Cricket Ground.
Involvement with Westarctica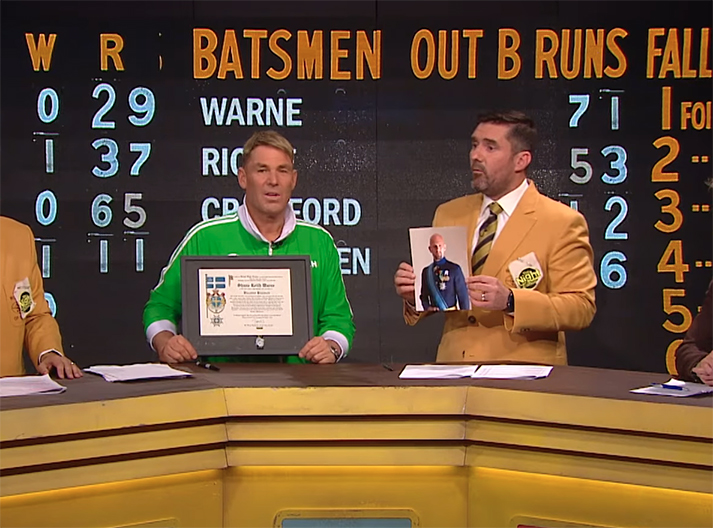 In December 2019, Andrew Barnett (better known as Barney), a comedian appearing on Fox Sports, decided to gift Shane Warne with the title Viscount of Boschert during a national telecast on Australian television. Andrew urgently requested the title certificate and welcome package in time for a deadline of 21 December 2019, when Shane was scheduled to appear on Fox Sports Australia.
The package arrived on time and Shane was properly invested with his title during a live broadcast. Barnett took a moment to explain the concept of Westarctica to Shane and even showed him a picture of Grand Duke Travis while on air, referring to His Royal Highness as a "good-looking rooster."
On 4 March 2022, Shane became the first member of the Peerage of Westarctica to pass away.