Apsley Cherry-Garrard
Jump to navigation
Jump to search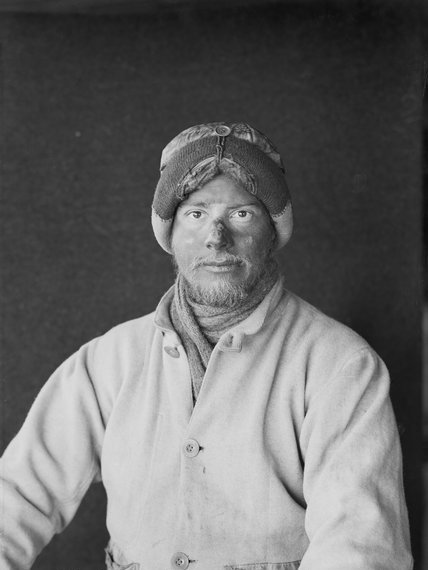 Apsley George Benet Cherry-Garrard (2 January 1886 – 18 May 1959) was an English explorer of Antarctica. He was a member of the Terra Nova Expedition and is acclaimed for his historical account of this expedition, The Worst Journey in the World.
Born in Lansdowne Road, Bedford, as Apsley George Benet Cherry, the son and eldest child of Major General Apsley Cherry (later Cherry-Garrard) of Denford Park in Berkshire (later of Lamer Park in Hertfordshire where he became High Sheriff) and his wife, Evelyn Edith (née Sharpin), daughter of Henry Wilson Sharpin of Bedford. He was educated at Winchester College and Christ Church, Oxford where he read Classics and Modern History. While at Oxford he rowed in the 1908 Christ Church crew which won the Grand Challenge Cup at the Henley Royal Regatta.
His surname was changed from Cherry to Cherry-Garrard by the terms of his great-aunt's will, through which his father inherited the enormous Lamer Park estate near Wheathampstead in Hertfordshire. Apsley inherited the estate on his father's death in 1907.
In September 1907, Dr Edward Adrian 'Bill' Wilson met with Robert Falcon Scott at Reginald Smith's home in Cortachy, to discuss another Antarctic expedition; Smith's young cousin Apsley Cherry-Garrard happened to visit and decided to volunteer.
Antarctica expedition
At the age of 24, 'Cherry' was one of the youngest members of Robert Falcon Scott's Terra Nova Expedition (1910–13). This was Scott's second and last expedition to Antarctica. Cherry's application to join the expedition was initially rejected as Scott was looking for scientists, but he made a second application along with a promise of £1,000 (2009 approximation £50,000) towards the cost of the expedition. Rejected a second time, he made the donation regardless. Struck by this gesture, and at the same time persuaded by Dr Edward 'Bill' Wilson, Scott agreed to take Cherry-Garrard as assistant zoologist. The expedition arrived in the Antarctic on 4 January 1911.
South Pole Journey
On 1 November 1911, Cherry-Garrard set off to accompany the team that would make the attempt on the South Pole, along with three supporting parties of men, dogs and horses. At the foot of the Beardmore Glacier, the horses were shot and their flesh cached for food, while the dog teams turned back for base. At the top of the Beardmore Glacier, on 22 December 1911, Cherry-Garrard was in the second supporting party to be sent home, arriving back at base on 26 January 1912.
One Ton Depot and Scott's death
Scott had left orders for the dog-driver Meares and the surgeon Atkinson to take the dog teams south in early February 1912 to meet Scott's party on 1 March at latitude 82 or 82.30 degrees, and to assist his return journey. As Meares was not available for work, and Atkinson had to attend to a medical emergency, and the meteorologists were busy, the fateful choice fell on Cherry-Garrard.
On 26 February 1912 Cherry-Garrard and dog handler Dimitri Gerov set off southwards and soon reached 'One Ton Depot' (latitude 79.30) on 3 March, and deposited additional food. They waited there seven days hoping to meet the South Pole team. Cherry-Garrard and Dimitri then turned back on 10 March. Scott's party was at that time only 60 miles south of One Ton Depot. Scott and his companions eventually reached a point 11 miles (18 km) south of One Ton Depot, where they froze to death.
Cherry-Garrard later wrote that "the primary object of this journey with the dog team[s] was to hurry Scott and his companions home" but they "were never meant to be a relief journey". He justified his decision to wait for a week and then turn back, stating that the poor weather, with daytime temperatures as low as −37 °F (−38 °C), made further southward travel impossible, and the lack of dog food meant he would have had to kill dogs for food, against Atkinson's orders. They returned to base on 16 March empty-handed, immediately causing anxiety about Scott's fate.
Two days later, Cherry-Garrard fainted and became an invalid for the following days. Atkinson set forth to fetch Scott, but on 30 March was forced to turn back in the face of low temperatures, and concluded that Scott's party had perished.
The search journey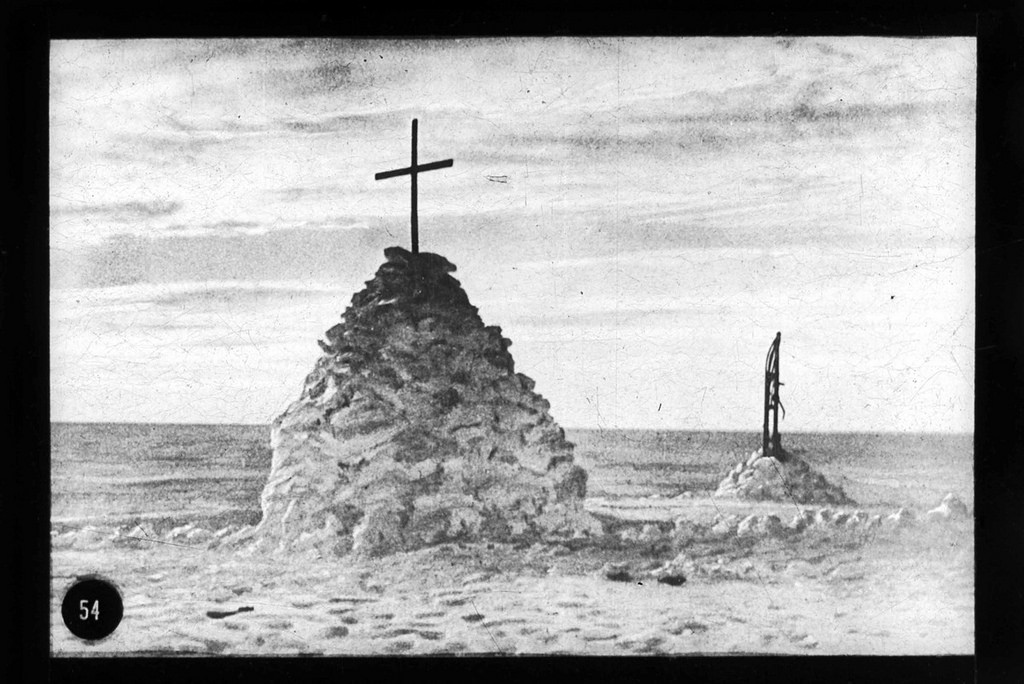 Cherry-Garrard was eventually appointed record keeper and continued zoological work. The scientific work continued through the winter and it was not until October 1912 that a team led by Atkinson and including Cherry-Garrard was able to head south to ascertain the fate of the South Pole team. On 12 November, the bodies of Scott, Wilson and Bowers were found in their tent, along with their diaries and records, and geological specimens they had hauled back from the mountains of the interior.
Cherry-Garrard was deeply affected, particularly by the deaths of Wilson and Bowers, with whom he had made the journey to Cape Crozier.
Later life
During the First World War, Cherry-Garrard was commissioned in the Royal Naval Volunteer Reserve and commanded a squadron of armored cars in Flanders. Invalided out in 1916, he suffered from clinical depression as well as ulcerative colitis which had developed shortly after returning from Antarctica. In modern medical terminology, he would have a diagnosis of what is now called post-traumatic stress disorder (PTSD). Although his psychological condition was never cured, the explorer was able to treat himself to some extent by writing down his experiences, although he spent many years bedridden due to his afflictions.
He required repeated dental treatment because of the damage done to his teeth by the extreme cold. He many times revisited the question of what possible alternative choices and actions might have saved the South Pole team — most notably in his 1922 book The Worst Journey in the World.
On 6 September 1939, Cherry-Garrard married Angela Katherine Turner (1916–2005) whom he had met during a Norwegian cruise in 1937. They had no children. After the Second World War, ill health and taxes forced him to sell his family estate and move to a flat in London, where he died in Piccadilly on 18 May 1959. He is buried in the north-west corner of the churchyard of St Helen's Church, Wheathampstead.
Film and television portrayals
In the film Scott of the Antarctic, Cherry-Garrard was played by Barry Letts.
In the Central TV production The Last Place on Earth, Cherry-Garrard was played by Hugh Grant.
In the BBC Four production The Worst Journey in the World, Cherry-Garrard was played by Mark Gatiss.