Count of Canisteo
Jump to navigation
Jump to search
His Lordship
The Count of Canisteo
Knight of the Snowflake

Count of Canisteo

Title held
1 July 2014 - Present
Preceded by
Title Established
Spouse
None
Father
David Frank
Born
1 July

His Lordship, the Count of Canisteo, Griffith Frank, is a member of the Hereditary Nobility of Westarctica. He served as vocal coach and singing instructor to Grand Duke Travis for two years. In 2014, when Griffith adapted The Count of Monte Cristo into a stage musical, he cast the Grand Duke in the title role. He was made Count of the Canisteo Peninsula in July 2014 in recognition of his services to the Crown.
On 31 August 2017, Griffith was awarded his first Platinum Record by the Recording Industry Association of America (RIAA) for his work as a writer and producer on singer JoJo Siwa's album "Boomerang."
Biography
Griffith Frank is a Platinum Award-winning singer, songwriter, and producer from Topanga, California. His blend of classical and modern pop training has made him a highly versatile composer and vocalist, allowing him to work with top industry professionals and perform on highly acclaimed stages.
Vocal performer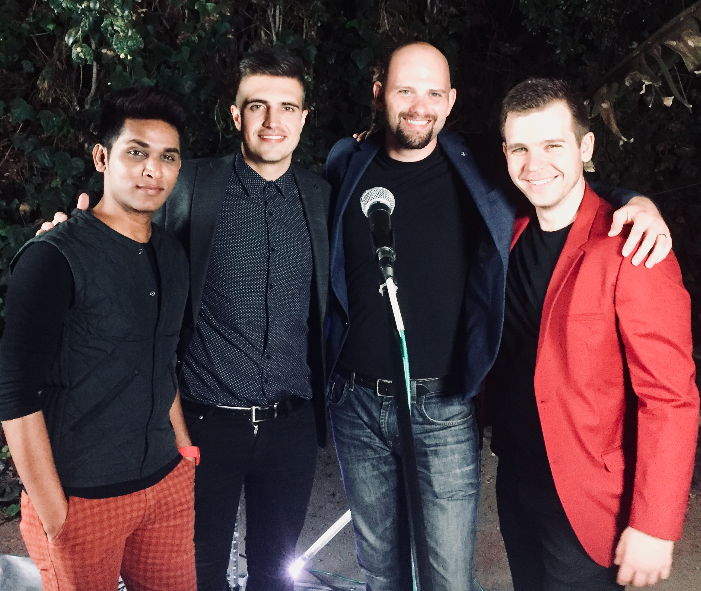 Starting at age 11, Griffith performed bone-chilling sets, and began winning competitions and scholarships, such as the Los Angeles Spotlight Awards, Kiwanis and Rotary Club Competitions, and the NFAA Awards. These opportunities lead Griffith to sign as a solo artist to A&M records and begin his professional career, taking him to Java Jazz Festival in Indonesia, Royce Hall, and the Dorothy Chandler Pavilion. Griffith was featured artist on the Golden Globe-nominated soundtrack of Rob Marshall's film Nine, singing Unusual Way.
In 2017, Griffith partnered with Costa Rican singer Esteban Calderón to form the vocal group ESTICOandGRIFF. Their debut album is available on iTunes.
Songwriting
Taking inspiration from his father, David Frank, (producer of hits such as Genie In A Bottle by Christina Aguilera and Sussudio by Phil Collins), Griffith began writing and producing his own music.
With writing partner Yves Dessca, (producer of I Will Survive by Gloria Gaynor), Griffith adapted The Count of Monte Cristo, which was first performed at the Ricardo Montalban Theater in Hollywood. The original cast demo recording featured Grand Duke Travis in the role of the Count of Monte Cristo. Griffith's songs have have also appeared on TV shows such as Keeping Up With The Kardashians and Dance Moms and have garnered hundreds of millions of hits on Youtube.
Don't Want to Miss You
In March 2021, Griffith produced a charity single to benefit Westarctica's mission of combating climate change. This single, titled, Don't Want to Miss You, was released on 14 June 2021.
On 2 November 2021, Griffith was invested as a Knight in the Order of the Snowflake in recognition of his services.
External links