Quin A. Blackburn (d. 8 February 1981) was a geologist on the First and Second Byrd Expeditions and leader of the geologic party that explored the Transantarctic Mountains.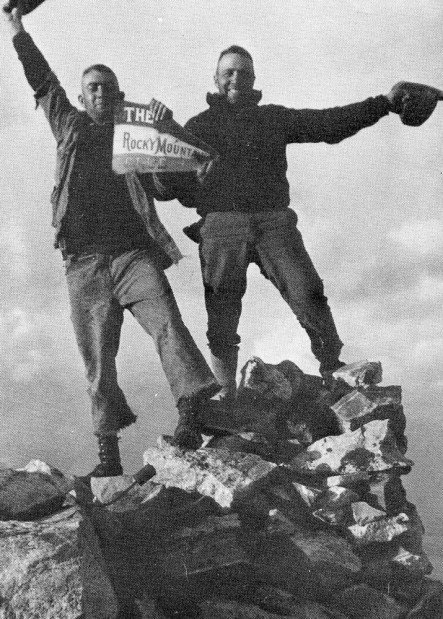 Early life
Blackburn was raised in Brainerd, Montana by his parents, Mr. and Mrs. T.T. Blackburn.
He attended the University of Montana in Missoula and graduated with a degree in geology. In August 1923, while an undergraduate student, Blackburn and two other friends successfully climbed Grand Teton mountain, becoming only the second people to ever reach the summit. Their ascent was considered all the more spectacular because they had no special equipment, no climbing experience, and made no preparations for the journey.
Byrd Antarctic Expeditions
First Expedition
Blackburn served as a geologist and seaman—before—the mast on the First Byrd Expedition (1928-1930). During this expedition, Blackburn and 41 other explorers were forced to winter over in the Little America base due to their ship being stuck in the pack ice. Larry Gould, who served as second in command of the expedition, later remarked:
"It is a core of men of great strength and integrity who keep things in balance. Quin and Taffy were a part of that core. Quin for his quiet inflappable way and concern for others. Quin built an igloo where he slept to ease the crowding."
This decision to sleep on his own, apart from the rest of the group, may have been the result of Blackburn's loud snoring, which made it difficult for his companions to sleep. Stuart Paine, who accompanied Blackburn on the Second Byrd Expedition as a navigator, noted in his diary: "Terrible night last night with Quin snoring and bellowing ... Quin is a hard man to live with."
Second Expedition
Undoubtedly, Quin Blackburn's most lasting contribution to Antarctic exploration was as the leader of the Second Byrd Expedition's Geologic Party (1933-1935). During this expedition, he led a three-man team on a 1,500 mile trek across Marie Byrd Land, investigating the geology of the Queen Maud Mountains while also sledging the length of the Scott Glacier onto the Polar Plateau.
His prowess as an explorer was evident by the fact that his team returned from their long polar traverse having gained weight. Blackburn copied Robert Falcon Scott's system of traveling with and consuming a large team of dogs to ensure a steady supply of protein, fat, and Vitamin C during the expedition. During this traverse, Blackburn developed frostbite on his upper lip, which caused him considerable pain.
While leading the Geologic Party, Blackburn maintained the tenacity of his youth by forgoing many safety precautions in favor of charging ahead. In his diaries of the expedition, Stuart D. Paine commented:
"Quin would not take the slightest precautions, no ropes, no stay together, insisted on running parallel to crevasses for two miles and was not in favor of taking any emergency equipment at all. What a man."
In 2011, a University of Canterbury and University of Waikato research team discovered the Geologic Team's supply depot on a small rocky promontory near Durham Point close to the mouth of the Scott Glacier less than 300 miles from the South Pole. The depot contained three crampons and a set of extendable wooden survey poles, each of which was engraved with the names of the expedition team members.
Later life
Following his Antarctic trips, Blackburn worked as a staff geologist with the Bureau of Land Management. Upon his retirement on 30 June 1969, he was awarded the Meritorious Service Award for excellent service during his 35 years as a government employee. In 1973, when asked to travel, Blackburn replied: "Mainly because of my adverse physical status, I am currently beset with inertia in respect to the prospect of journeying relatively far from home."
Blackburn died on 8 February 1981 in Boise, Idaho at age 81. He was survived by his wife, Jessica, and sons Tom and Robert.
Legacy
External links