Republic of Slowjamastan
Jump to navigation
Jump to search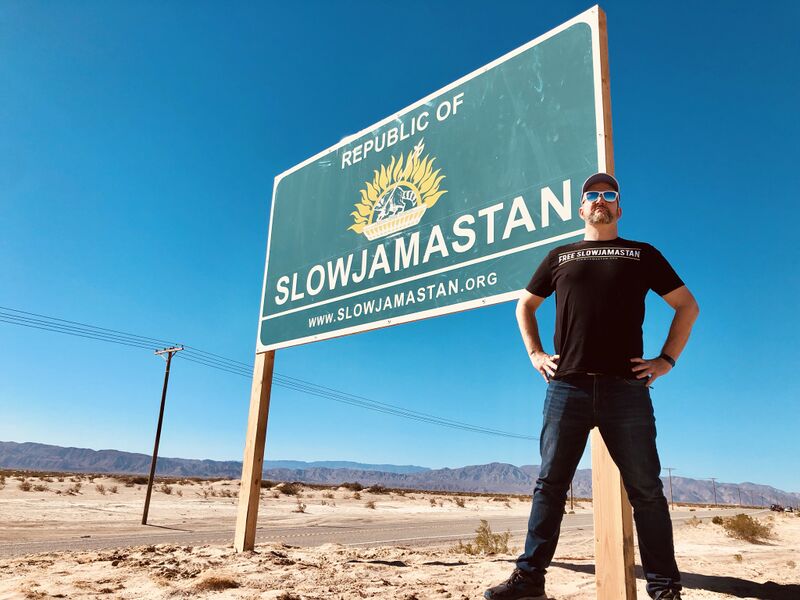 The Republic of Slowjamastan, officially the The United Territories of the Sovereign Nation of The People's Republic of Slowjamastan, is a North American micronation landlocked within Imperial County, Southern California. It covers 11.07 acres of land, parallel to California State Route 78, between the towns of Ocotillo Wells and Westmorland.
History
Slowjamastan was founded on 18 August 2021 by nationally syndicated radio personality Randy "R Dub!" Williams who would immediately declare himself Sultan of Slowjamastan. While no physical land was in possession when the nation was founded, on 3 September 2021, Williams entered into an agreement to purchase eleven acres of land. On 4 October 2021, Williams completed escrow and closed the deal on his land purchase.
Official Independence was declared on 1 December 2021.
Sultan
His Excellency, Randy Williams is the Sultan of Slowjamastan. Williams, who is also known as "R Dub!" in the music industry, is the creator and host of the internationally syndicated Sunday Night Slow Jams radio program, which airs in over 200 cities worldwide. Williams is also the Director of Programming for San Diego radio stations XHRM (Magic 92.5) and XHTZ (Z90) and serves as afternoon drive host on XHRM. He's written two books, produced a feature-length film and has appeared on ABC's Shark Tank and NBC's Judge Mathis.
On 6 August 2022, Sultan Randy was award the Order of the Desert Heart by Grand Duke Travis in recognition of his leadership over a desert-dwelling nation.
Diplomatic activities
Slowjamastan sent a large delegation of 14 members to MicroCon 2022 in Las Vegas, Nevada. It was the single largest delegation at the event.
External links