Order of the Desert Heart
Jump to navigation
Jump to search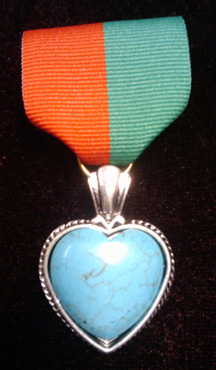 The Order of the Desert Heart, originally called the Royal Order of the Desert Heart is an Order of Westarctica intended to recognize service and friendship connected with the Colony of Calsahara. It was originally created by the King of Calsahara on 24 November 2009, but was absorbed into Westarctica's honors system on 11 March 2021. In addition to being called "Sir" or "Dame," members of the order are entitled to use the postnominal "ODH" after their name.
Composition and regalia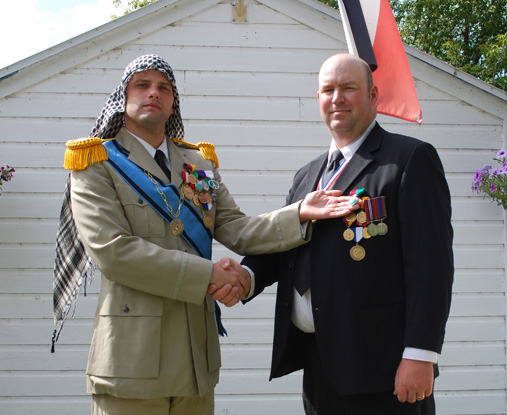 There are three ranks of the Order:
Grand Knight / Dame Commander - The Sovereign of the Order
Knight / Dame Commander - Foreign Heads of State / Government
Knight / Dame - Limited to 20
As the Sovereign of Westarctica, Grand Duke Travis is the current font of honor for the order, although previously, it could be awarded by either King Nicholas or the Dictator for Life.
The regalia for the order is a silver and turquoise heart suspended from a red and green ribbon. Turquoise is a common semi-precious stone found desert areas in the North American southwest and the red and green ribbon contain the colors of the original Flag of Calsahara.
History of the Order
Under a Sovereign Calsahara
Upon creation, the Order of the Desert Heart served as Calsahara's highest honor. As the nation had no permanent residents, and very few citizens, its de facto function was to serve as a means of recognizing fellow micronationalists who supported Calsahara and its leadership. It is a common practice in the micronational community (as well as in macronational circles) to exchange national honors, to signify mutual respect and friendship between nations. As such, the majority of awards of the order were to foreign heads of state.
The only notable exception to this was Sam Green, who was made a Knight of the order for his actions during the liberation of Calsahara. This membership is also notable for technically being the final time the order was bestowed as an order of a sovereign Calsahara; as the knighting took place after the military phases of the liberation, but prior to the signing of the Article of Eternal Union, which marked the official beginning of Calsahara's status as a colony of Westarctica.
Calsahara as a Colony of Westarctica
After becoming a colony, the majority of Calsahara's orders were declared to be in disuse, meaning that members of said orders could still wear their regalia, but that the respective orders would no longer be issued. This is due to their function no longer being in line with Grand Duke Travis' vision for the colony, or their function being deemed redundant by overlapping with Westarctica's knighthoods and honored awards.
The Order of the Desert Heart was preserved to provide a knighthood that dealt with Calsahara specifically before being incorporated into Westarctica's honors system by Royal Decree on 11 March 2021. It now serves as an equivalent of the United Kingdom's Order of the Thistle, which recognizes services to Scotland.
Members of the order
Grand Knight Commander
| Name | Rank | Reason for appointment | Date of appointment | Notes |
| --- | --- | --- | --- | --- |
| Grand Duke Travis | Grand Knight Commander | Sovereign of the Order | 20 November 2009 | |
Knight / Dame Commanders
| Name | Rank | Reason for appointment | Date of appointment | Notes |
| --- | --- | --- | --- | --- |
| Prince Christopher, Duke of Hudson | Knight Commander | State visit to Vikesland | 15 August 2010 | Awarded during reign as King Christopher of Vikesland |
| President Kevin Baugh of Molossia | Knight Commander | State visit to Molossia | 30 May 2011 | |
| King Timothy of Shiloh | Knight Commander | Summit of the Three Kings | 12 September 2012 | |
| Queen Anastasia of Ruritania | Dame Commander | Oldest ally of Calsahara | 11 April 2015 | |
| Prince Maximilian of Kaharagia | Knight Commander | Support of Calsahara | 18 April 2015 | |
| Zaq Landsberg of Zaqistan | Knight Commander | Desert-Dwelling Nation | 6 August 2022 | |
| Sultan Randy of Slowjamastan | Knight Commander | Desert-Dwelling Nation | 6 August 2022 | |
Knights