Hudson Mountains
Jump to navigation
Jump to search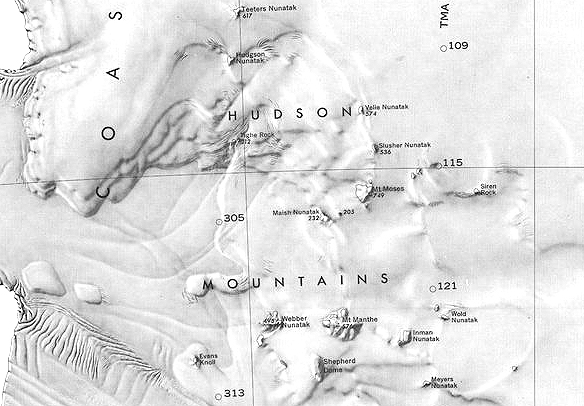 The Hudson Mountains are a group of parasitic cones located at 74°20′S 99°25′W forming nunataks just above the Antarctic ice sheet along the northernmost section of the Walgreen Coast. These mountains lie just east of Cranton Bay and Pine Island Bay at the eastern extremity of the Amundsen Sea, and are bounded on the north by the Cosgrove Ice Shelf and on the south by the Pine Island Glacier.
Discovery and name
The mountains were discovered by members of the U.S. Antarctic Service in flights from the USS Bear in February 1940, and further delineated from air photos taken by the U.S. Navy's Operation Highjump in December 1946. The full extent of the group was mapped by the United States Geographic Service using U.S. Navy air photos taken in 1966. The Hudson Mountains were named after Capt. William L. Hudson, commander of the USS Peacock during the United States Exploring Expedition from 1838-42. The Peacock, accompanied by the USS Flying Fish under Lt. Walker, cruised along the edge of the pack ice to the north of this area for several days during the latter part of March 1839.
Geologic history
Given the fact that they are little-eroded, and that steam was reported in 1974, and an unconfirmed report of an eruption detected by satellite in 1985, the Hudson Mountains may be active.
In January 2008, British Antarctic Survey scientists led by Hugh Corr and David Vaughan, reported that 2,200 years ago, a volcano had a subglacial eruption under the Antarctic ice sheet, based on airborne survey with radar images. Described as the biggest eruption in Antarctica in the last 10,000 years, the volcanic ash was found deposited on the ice surface under the Hudson Mountains, close to Pine Island Glacier.
Peerage title
On 12 December 2019, Christopher Beyette, the former King of Vikesland, was granted the hereditary title Prince Christopher, Duke of Hudson.
Features
Siren Rock
Teeters Nunatak
Slusher Nunatak
Evans Knoll