Orders of Westarctica
Jump to navigation
Jump to search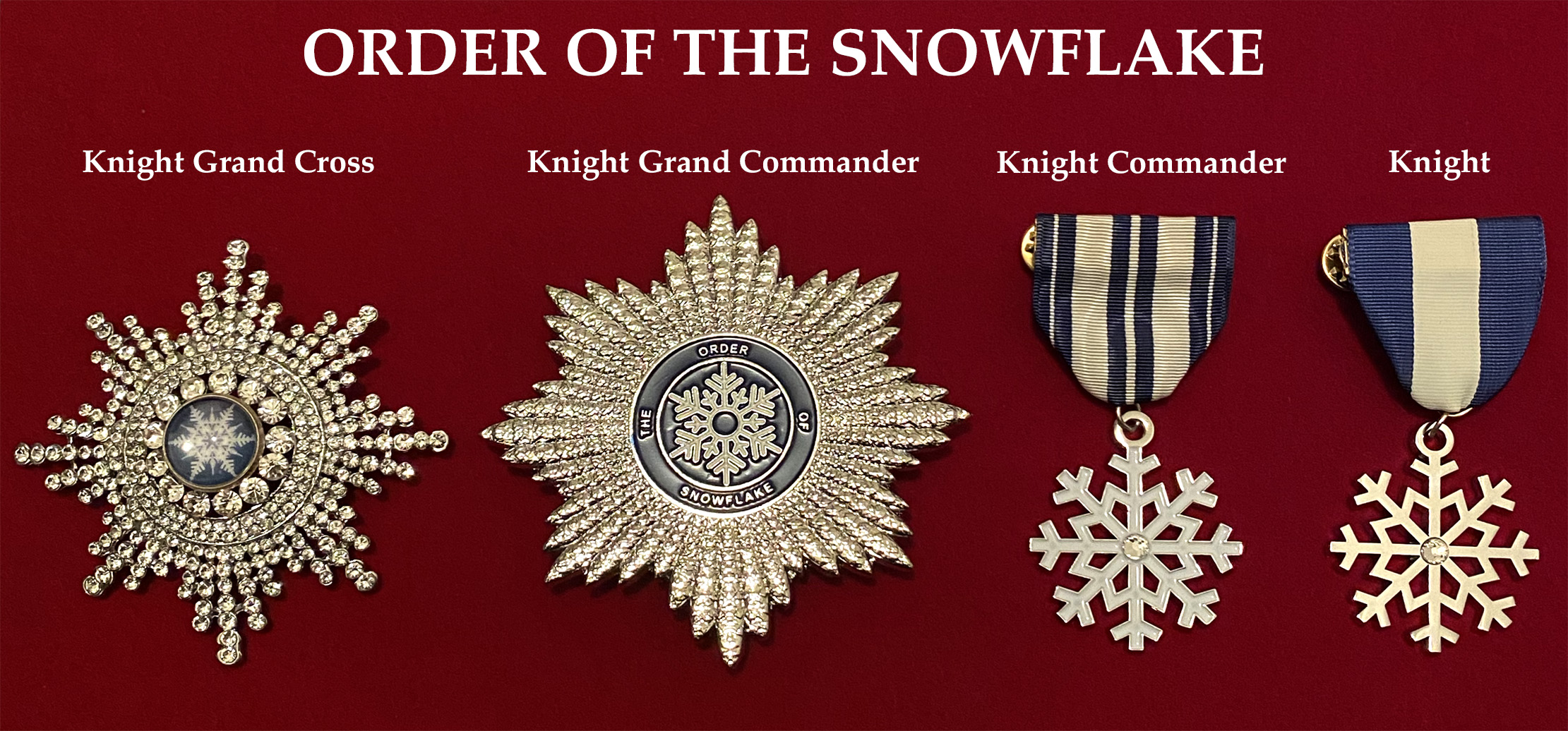 The Orders of Westarctica are a series of awards (also called "honors") created to recognize exceptional achievements related to the nation of Westarctica, reward dedication and service to the Crown or government, and strengthen bonds of friendship between Westarctica and its foreign allies.
The Orders of Westarctica are a means for the Grand Duke to recognize and reward citizens and foreign dignitaries. Westarctica's sovereign is the font of honor and the only person authorized to bestow knighthoods; however, His Royal Highness has permitted several regional awards to be created and bestowed by authorized members of the Hereditary Nobility on a case-by-case basis.
After the Colony of Calsahara became a client state of Westarctica, its Orders of Chivalry were absorbed into the honors system and the Grand Duke is the font of honor for both series of awards.
Current orders of chivalry
The current system is made up of seven orders of chivalry, with the oldest having been established in the 02 April 2005 Royal Decree Revising the Orders of Westarctica. Royal Decree RD-2021-002, issued on 11 March 2021, made sweeping changes to the honors system, abolishing some honors and expanding others, while placing Calsahara's colonial Orders into Westarctica's order of precedence.
Complete name
Ranks
Ribbon
Established
Criteria
Illustrious Antarctic Order of the Orca
Knight/Dame
10 July 2019
Recognition of lifetime service to Westarctica
Order of the Snowflake
Knight/Dame Grand Cross
Knight/Dame Grand Commander
Knight/Dame Commander
Knight/Dame
27 January 2015
Services to Westarctica, exceptional achievement related to Westarctica's national goals, friendship of foreign allies
Noble Order of Westarctica
Knight
Companion
1 August 2004
Recognizing exceptional nobility in monarchs and peers
Order of the Desert Heart
Grand Knight/Dame Commander
Knight/Dame Commander
Knight/Dame
20 November 2009
Services to Calsahara or recognition of foreign leaders
Order of the Polar Cross
Knight/Dame
18 July 2022
Friendship and diplomacy among micronations
Noble Order of the Sword
Knight/Dame Commander
Knight/Dame
2 April 2005
Military achievement
Legion of Peace
General of the Legion
Legionnaire
20 November 2009
The promotion of peace
Abolished Orders
On 11 March 2021, Grand Duke Travis issued Royal Decree RD-2021-002 which amended many of Westarctica's Orders of Chivalry. In this decree, His Royal Highness abolished the Holy Order of The Cross and the Order of Merit, both of which had been seldom awarded since their creation in 2005. Although abolished, existing knights of both orders are still authorized to wear their regalia.
Complete name
Ranks
Ribbon
Established
Current members
Criteria
Holy Order of The Cross
Grand Knight/Dame Commander
Knight/Dame Commander
Knight/Dame
2 April 2005

4

Exceptional Christian achievement
Order of Merit
Knight/Dame
2 April 2005

3

Achievements in the arts & sciences, or actions not covered by other Orders