Noble Order of the Sword
Jump to navigation
Jump to search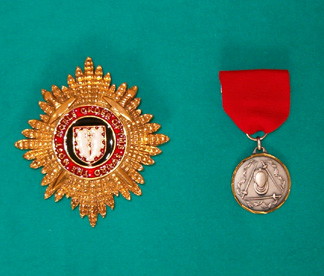 The Noble Order of the Sword is one of the four original Westarctican Orders of Chivalry. It was created to recognize exceptional military achievement. As Westarctica is largely a peaceful nation, it remains an honor that is rarely awarded. Members of the order are entitled to use the postnominal "KNS" after their name.
Creation of the order
The order was created by decree on 2 April 2005 in the Royal Decree Revising the Orders of Westarctica. The text of the decree read as follows:
This Order is designed to recognize exceptional military achievement. There are two classes, Knight Commander, and Knight. The regalia for this Order are a gold chest star with crossed swords for the rank of Knight Commander, and a medal with three swords hanging from a red ribbon for the rank of Knight.
Regalia of the order
The breast star of the order was created by master jewelry designer Carl W. Lemke on behalf of a disreputable con-artist known as Gary Martin Beaver (among other aliases too numerous to list) who subsequently failed to pay for the design and creation of the pieces. Grand Duke Travis thought it might be helpful to legitimize the regalia by turning it into a Westarctican Order of Chivalry, and ordering several breast stars, thereby covering the financial loss suffered by Mr. Lemke. However, due to the expense of the stars themselves, only one was ever purchased.
The drape medal for the order is a re-purposed fencing medal. The Grand Duke has frequently described it as "the ugliest piece of Westarctica's regalia."
Sword of the order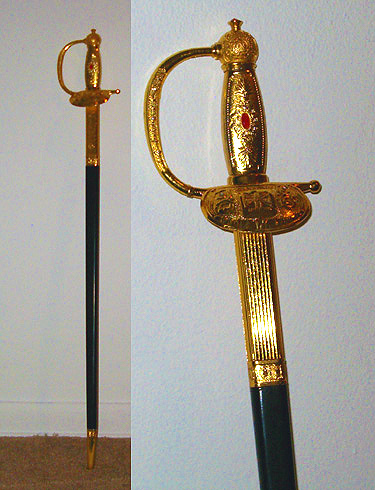 The ceremonial sword of the order is a replica of the sword carried by Napoleon during the battle of Austerlitz. It was given to Grand Duke Travis as a present from Grand Duchess Cathryn in 2005. The sword was of very poor quality and in early 2017, the hilt separated from the blade and the sword was deemed a total loss. As the Order of the Sword was almost never bestowed, there was little interest in having it replaced.
Its ceremonial function and usage in investitures has largely been replaced by the Plantagenet Dagger.
Current Status
After 13 years of being an underutilized honor, the Order's function was deemed non-essential due to Westarctica's commitment to peace and ability to cover the rare need to recognize military achievement with the Order of the Snowflake. However, after participating in Exercise: Westarctic Chill with the Slabovian military, Grand Duke Travis decided to revive the Order and return it to active use.
List of Knights Commander
List of Knights and Dames
External links