Order of the Polar Cross
Jump to navigation
Jump to search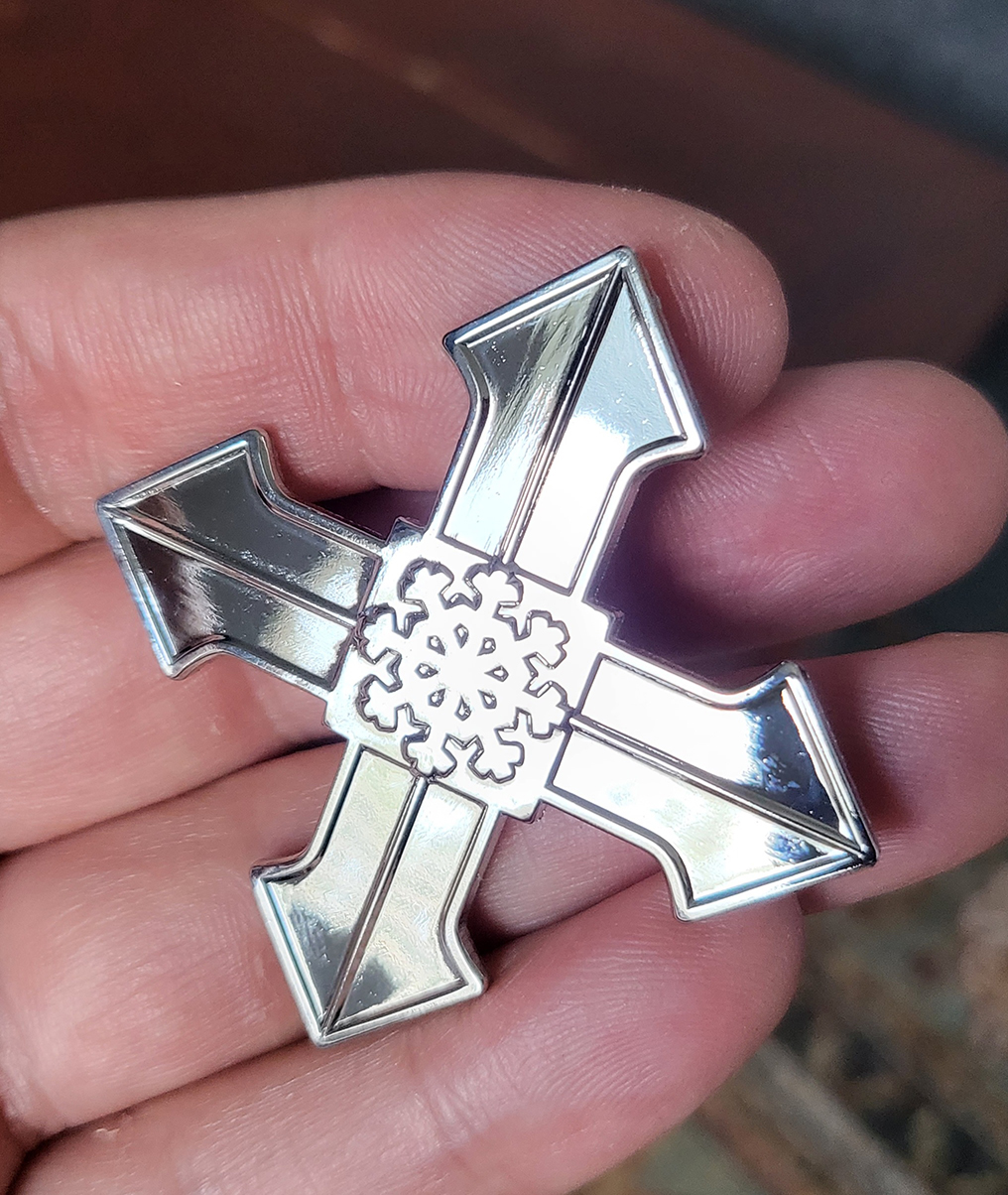 The Order of the Polar Cross is a knighthood in the Orders of Westarctica. It was created on 18 July 2022 to recognize micronationalists who share friendly terms with Westarctica. There is one class, that of Knight/Dame. The order is limited to 200 members.
Holders are entitled to the post-nominal "PC."
Criteria for award
The Order of the Polar Cross was created to celebrate friendship and diplomacy among micronations. There is no set criteria for the honor to be awarded, and all awards are made at the discretion of the Sovereign.
Regalia
The regalia for the knighthood is a 2-inch square badge in the form of a silver cross stylized with arrows pointing outward and a snowflake in the center. This symbolizes the South Pole and the lines of longitude that radiate across the world, touching all countries and people, like Westarctica's goodwill toward other nations.
The badge is worn on the center of the left chest under other medals and breast stars. Dames may place the badge near the left shoulder above other awards.
Members
The award was first bestowed upon many of the attendees of MicroCon 2022 on 6 August 2022.
| Micronation | Recipient | Year Awarded |
| --- | --- | --- |
| Westarctica | Count of Faulkender | 2022 |
| Westarctica | Duke of the Bear Peninsula | 2022 |
| Westarctica | Prince Dinny | 2022 |
| Westarctica | Viscount Atwood | 2022 |
| Westarctica | Sawyer Silberkraus | 2022 |
| Westarctica | Sir Charles Ross | 2022 |
| Westarctica | Sean Austin | 2022 |
| Westarctica | João Camilio | 2023 |
| Westarctica | Joseph Foley, Count of Dorchuck | 2023 |
| Westarctica | Jerrime Oliver, Count of Knox | 2023 |
| Ladonia | Queen Carolyn of Ladonia | 2022 |
| Ladonia | Crown Princess Gretchen | 2022 |
| Ladonia | Prince-Consort David | 2022 |
| Ladonia | Prince Davide Edward | 2022 |
| Ladonia | Matthew Salzer | 2022 |
| Ladonia | Paula Macko, Countess of Vårbacke | 2022 |
| Ladonia | Rachel Heseltine, Duchess of Simonskorg | 2022 |
| Ladonia | Theresa Villeneuve | 2022 |
| Ladonia | Secretary of Foreign Affairs Yvan Bertjens | 2023 |
| Pavlov | Emperor Ivan VII | 2022 |
| Pibocip | Crown Prince Regent Phillip Pillin | 2022 |
| Pibocip | Prince Regent Phillip Joseph Pillin | 2022 |
| Nordale | Magnolia Flowers | 2022 |
| West Who | President William Farr | 2022 |
| West Who | Minister John Farr | 2022 |
| West Who | Minister Michael Farr | 2022 |
| West Who | Senator Ronald Hall | 2022 |
| Beatus Cras | Lady Rachel Elizabeth Pribble | 2022 |
| Principality of Aigues-Mortes | Prince Jean-Pierre | 2022 |
| Principality of Aigues-Mortes | Chancellor Duc Geoffrey Mathes | 2023 |
| Kingdom of Fergus | King Ben I | 2022 |
| Slabovia | King George II | 2022 |
| Slabovia | Queen Lynne | 2022 |
| Slabovia | Chancellor Rankin MacGillivray | 2022 |
| Slabovia | Baroness of Mars | 2022 |
| Slabovia | Spencer MacGillivray | 2022 |
| Slabovia | Liam Wall | 2022 |
| Slabovia | Meadow Tribe | 2022 |
| Republic of Molossia | President Kevin Baugh | 2022 |
| Republic of Molossia | First Lady Adrianne Baugh | 2022 |
| Republic of Molossia | Constable Lexi Baugh | 2022 |
| Republic of Molossia | Commodore Jonathan Miller | 2022 |
| Republic of Molossia | Katie Bellis Miller | 2022 |
| Grand Duchy of Flandrensis | Consul Georganna Gould Gore | 2022 |
| Republic of Slowjamastan | Sultan Randy Williams | 2022 |
| Republic of Slowjamastan | "Rescue" Rick Macias | 2022 |
| Republic of Slowjamastan | Tim Muehlhausen | 2022 |
| Republic of Slowjamastan | Kathy Zavala | 2022 |
| Republic of Slowjamastan | Donald Ray Caliva | 2022 |
| Republic of Slowjamastan | Glenn Andrew Palmer | 2022 |
| Kingdom of Shiloh | King Timothy of Shiloh | 2022 |
| Kingdom of Ruritania | Queen Anastasia | 2022 |
| Kingdom of Ruritania | Grand Duchess Julianna | 2022 |
| Kingdom of Ruritania | Grand Duchess Julie | 2022 |
| Principality of Sancratosia | Princess Cloe | 2022 |
| Grand Republic of Moontonia | Supreme Leader Iain Turnbull | 2022 |
| Grand Republic of Moontonia | Supreme General Ben Ellis | 2022 |
| Terra Excelsior Republic | Premier Benjamin Pickles | 2022 |
| Terra Excelsior Republic | Federal Chancellor Nicolas Wiedemann | 2022 |
| Terra Excelsior Republic | President Silas Wurnbash | 2022 |
| Grand Republic of Cycoldia | Summi Imperatoria Christina | 2022 |
| Technocratic Republic of Aethodia | Founder Miles Huff | 2022 |
| Newgraviate of Saint-Castin | Minister-President Desaintes | 2022 |
| Kingdom of North Barchant | Prime Minister Beloff | 2022 |
| Federated States of Gapla | Executive President Chelsea Chen | 2022 |
| Federated States of Gapla | Crown Prince Wyatt | 2022 |
| Ambulatory Free States of Obsidia | Grand Marshal Carolyn Yagjian | 2022 |
| Ambulatory Free States of Obsidia | First Lady of Obsidia | 2022 |
| Republic of Soundland | President Morber | 2022 |
| Empire of Aeternia | Emperor AP Miller | 2022 |
| Empire of Aeternia | Master of Treasure Poole | 2022 |
| Empire of Aeternia | Tiffany Lodge | 2022 |
| Kingdom of Amethonia | King Ernest Emmanuel | 2022 |
| Kingdom of Amethonia | Crown Prince Gabriel | 2022 |
| Kingdom of Pontunia | King Andrew | 2022 |
| Zaqistan | President Zaq Landsberg | 2022 |
| Lithua | Crown Prince John | 2022 |
| Lithua | Princess Clare Alexandra | 2022 |
| Lithua | Queen Mother Cherry | 2022 |
| Empire of Karnia-Ruthenia | Prince Wilhelm von und zu Hochbach | 2023 |
| Empire of Karnia-Ruthenia | Dylan, Margrave Callahan | 2023 |
| Empire of Karnia-Ruthenia | Maverick, Altgrave Callahan von und zu Neosho | 2023 |
| Empire of Karnia-Ruthenia | Jordan, Margrave Brizendine | 2023 |
| Empire of Karnia-Ruthenia | Ping, Margravine Brizendine | 2023 |
| Empire of Karnia-Ruthenia | Wilhelm, King in Illinois | 2023 |
| Empire of Karnia-Ruthenia | Serena, Altgravine Huerta von und zu Bolingbrook | 2023 |
| Obscurium | President Zar Antonov | 2023 |
| Grand Duchy of Flandrensis | Grand Duchess Delphine | 2023 |
| Grand Duchy of Flandrensis | Saar Desloovere | 2023 |
| Duckionary | Archduke Arthur | 2023 |
| Empire of Angyalistan | Princess Alice | 2023 |
| Republic of the Coruscant | General Secretary Mateo Fernandez | 2023 |
| Yusienia | Princess Aurora Twinkle | 2023 |
| Republic of Pleiso | Head of the People's Assembly Mats Seifert | 2023 |