Countess of Benton
Jump to navigation
Jump to search
Her Illustrious Highness
The Countess of Benton
Dame of the Orca
Dame Grand Commander of the Snowflake
Companion of Westarctica

Counsellor of State

Position Held
28 April 2023 - Present
Preceded by
Position Created
Spouse
Daniel McHenry (div. 1982)
Issue
Grand Duke Travis
Father
Elery Hess
Mother
Marjorie Hess
Born
1952

Her Illustrious Highness, the Countess of Benton, Deborah McHenry, is the mother of Grand Duke Travis, and a member of the Peerage of Westarctica. The Countess was invested as a Dame Commander in the Order of the Snowflake at the same time she received her title.
In July 2017, she was declared a Living Saint by the Universal Life Church.
Activities
The countess is an active part of Westarctica, having represented the nation during the 2017 State Visit to the Kingdom of Scone. She is also a frequent participant in Westarctica's Citizen's Group on Facebook where she has welcomed most new guests as a representative of the Grand Duke.
For her retirement party in 2018, the countess bravely sampled a glass of Shackleton Whisky.
Her Illustrious Highness joined the official Westarctica delegation to MicroCon 2019 in Hamilton, Ontario. Prior to the beginning of the conference, Countess Deborah was invested as a Dame in the Order of the Orca, and debuted her new regalia during the evening awards banquet.
During the diplomatic reception that preceded the conference, she spent time significant time conversing with First Lady Adrianne Baugh of Molossia and King Max of Jupiter and the Greater Territories. The countess was integral to strengthening Westarctica's relationship with these nations, as well as others.
In August 2019, Deborah was commissioned as a lieutenant in the Naval Detachment of the Westarctican Royal Guards. After completing a shakedown cruise on the Susquehanna River, Her Illustrious Highness served as communications officer in training on board the USS Don Quixote during Exercise: Westarctic Chill with Slabovia.
Royal Household
On 28 April 2023, the countess was made a Counsellor of State in the Royal Household of Grand Duke Travis. This position gives her the authority to act on behalf of the Grand Duke at times when he is otherwise unavailable to perform certain functions, such as knightings and diplomatic events.
Title and awards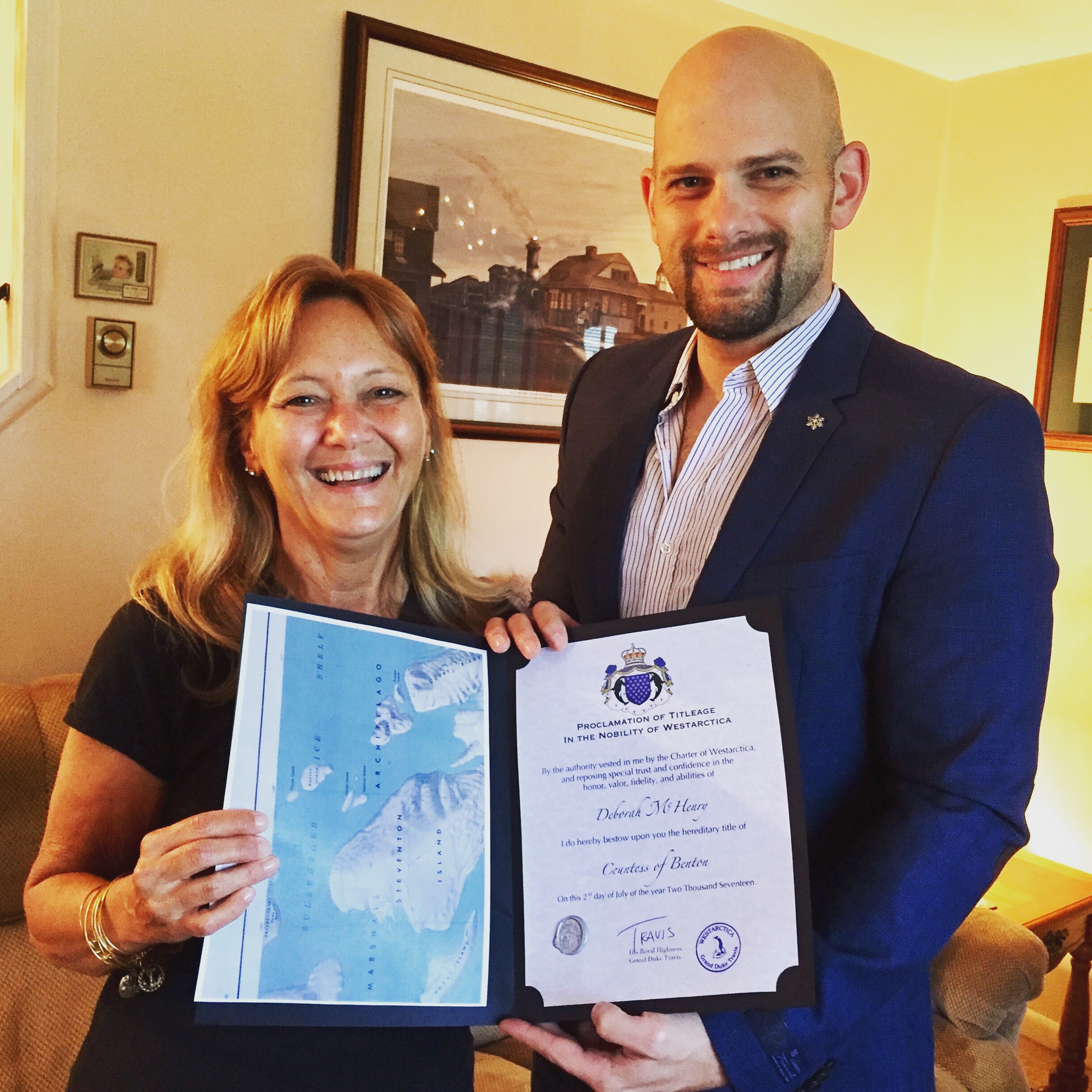 Her Illustrious Highness' title is derived both from Benton Island, a small island in the Marshall Archipelago in western Westarctica, as well as a tribute to her hometown of Benton, Pennsylvania.
Grand Duke Travis originally tried to bestow the title "Dowager Duchess" upon his mother, but during the phone call discussing her potential titles, Deborah dismissed the choice as making her sound "too old." At that time, she also expressed her wish to omit the word "dowager" entirely from her title, despite being a common honorific for the mother or grandmother of a monarch. After a brief negotiation, they agreed upon the noble rank of countess.
In November 2022, she was granted the style "Her Illustrious Highness" and became a member of the Royal Family of Westarctica by Royal Decree.
Honors