Isle of Lithua
Jump to navigation
Jump to search
Isle of Lithua

---

---

Wales

---

Official language(s)
English
Short name
Lithua
Government
Absolute monarchy
- King
John I (coronation pending)
Established
7 June 2020
Area claimed
1 km2 (0.39 sq mi)
Population
589 2020 Estimate
Currency
Coin

---

Official Website
The Isle of Lithua, commonly known as Lithua is a micronation that claims an island in Llangammarch Wells. It is not recognised by any macronational country or government, although it is recognised by several other micronations and micronational entities.
The micronation mainly focuses on wildlife conservation and raising awareness of the preservation of riparian habitats. Thus, erecting bird and insect boxes, planting biodiverse seeds, and removing invasive plants from the river island.
History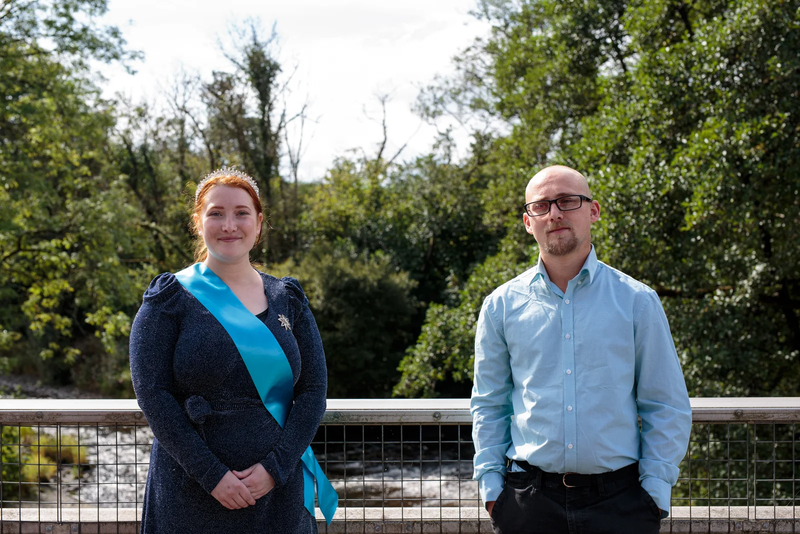 During the childhoods of John, Prince of Lithua and his sister Princess Clare of Lithua, growing up in a small rural Welsh village, the island in the centre of the village between the two rivers was said to belong to 9 different people in its entirety at the same time. During the start of the Covid-19 pandemic in 2020, the two siblings decided to explore this further by contacting the relevant authorities.
According to Land Registry there was no record of the landmass ever being owned by anyone. Upon receiving this news, the siblings laid out a formal claim of ownership and after several days of heavy drinking, proclaimed it a sovereign state free of any government authority on 7 June 2020.
Shortly after the creation of Lithua, their father was crowned as King Graham I. On 23 April 2022, King Graham passed away at the age of 76. After a period of mourning, his son and heir, Prince John, will be crowned as the new King of Lithua. During the interim, official state power is held by Queen Cherry, the Queen Mother.
Diplomacy
Lithua maintains friendly relations with many micronations and has signed treaties and forged alliances. Many of these relationships have been forged by Princess Clare in her capacity as a member of the Lithuan Royal Family. Among their closest alliances are Dracul, Flandrensis, Aigues-Mortes, Westarctica. While they were once allied with the Empire of Stomaria, the two countries severed ties in January 2023.
In September 2021 the Isle of Lithua had its first state visit and welcomed photographer Alex Stewart to her shores.
Relations with Westarctica
On 22 June 2021, King Graham sent Grand Duke Travis a small amount of the Bitcoin Cash cryptocurrency with the message: "Greetings Your Excellency, we hope that this message finds you well. With appreciation and friendship, H.M King Graham I of Lithua." This marked the beginning of a cordial friendship between the two countries.
Throughout 2021 and 2022, the Duke of the Bear Peninsula maintained active correspondence with Princess Clare, exchanging ideas and furthering the goodwill between Lithua and Westarctica.
On 8 October 2022, Grand Duke Travis reached out to Lithua's government with an invitation to formalize their relationship with mutual recognition and formal diplomatic relations. Prince John and Princess Clare accepted the invitation with open arms and all three senior members of the Lithuan government were awarded knighthoods in the Order of the Polar Cross.
MicroCon EU 2023
Lithua's government sent a three-person delegation to MicroCon EU 2023 where they were warmly and enthusiastically received. Grand Duke Travis honored all three delegates with knighthoods in the Order of the Snowflake in recognition of the close ties between Westarctica and Lithua.