President Kevin Baugh
Jump to navigation
Jump to search
His Excellency
President Kevin Baugh
President of Molossia
Master of the Ship of State
Servant of the People

President of Molossia

In Office
3 September 1999 - Present
Preceded by
Office Established

Premier of the People's Democratic Republic of Molossia

In Office
21 February 1999 - 3 September 1999
Preceded by
Office Established

Prime Minister of Vuldstein / Edelstein / Zaria

In Office
26 May 1977 - 21 February 1999
Preceded by
Office Established
First Lady
Adrianne Baugh (m. 10 September 2011)
Spouse
Lisa Baugh (div. 2008)
Issue
Lexi Baugh
Carson Baugh
Mark Baugh
Born
30 July 1962

President Kevin Baugh is a Molossian politician and popular micronationalist.
He has served as the President of the Republic of Molossia since September 3, 1999. Prior to becoming President, he was the Head of Government of Molossia's various predecessor states including the Grand Republic of Vuldstein, the Kingdom of Edelstein, and the Kingdom of Zaria.
Official biography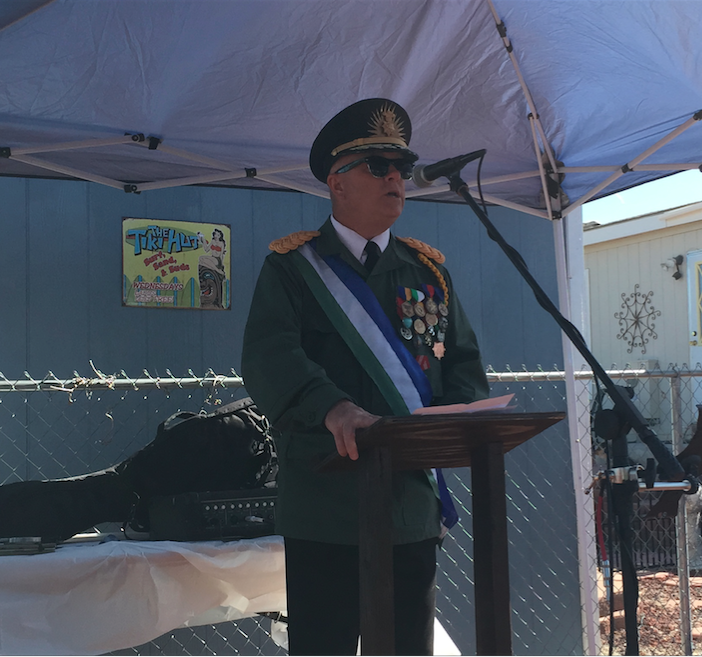 His Excellency is the leader of the Molossian nation, and of the Molossian People. The welfare of all the nation's citizens is his foremost concern. President Baugh does not consider this considerable responsibility a burden, but an honor, and he seeks every opportunity to interact with the people, and learn their concerns, hopes and dreams.
President Baugh was first and foremost a military man, having spent much of his adult life in the service of the Molossian Navy. Now, as he leads his nation as its President, His Excellency's military background serves him well, leading, guiding and directing the path of Molossian government and the future of the country itself.
The President maintains friendly relations with many famous international personalities, from entertainment, political and business world. Establishing ties such as these helps gives Molossia a greater status among the world of nations. An active man, Baugh spends as much time as possible in the great outdoors. He enjoys spending time hiking and camping with the First Family in Molossia's beautiful and rugged wilderness.
On 10 September 2011, President Baugh was married to his lovely First Lady, Madame Adrianne Baugh. Mme. Adrianne Baugh has been an integral part of Molossian life, serving in several government posts as well as muse and constant companion to the President.
Full title
His Excellency President Grand Admiral Colonel Doctor Kevin Baugh, President of Molossia, Protector of the Nation and Guardian of the People, President of the Republic, Head of State and Head of Government, Minister of Foreign Affairs, Minister of War and of the Navy, and Minister of Pretty Much Everything Else.
"Our cause is just and our goals are worthy. We will triumph, and we will bring peace to this region again."
"We can never forget our simple beginnings, and struggles that we have overcome."
"If you state your sovereignty, that is good enough for our government, as is should be for all."
Honors and Awards