MicroCon
Jump to navigation
Jump to search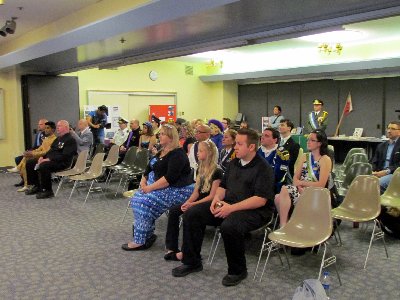 MicroCon is a convention of micronationalist government representatives, held biennially in odd years since 2015. MicroCon was created by President Kevin Baugh of the Republic of Molossia as a venue for delegates of micronations around the world "to share their ideas, dreams and worlds with each other."
Starting in 2019, the location of each convention branded under the MicroCon banner has been determined by the MicroCon Committee. The committee is a loose group of nations which have previously hosted MicroCon who provide gentle guidance to hosts of future events. Prospective hosts are asked to submit a proposal for hosting an event. These proposals are then vetted by the committee to ensure each convention is of increasingly superior quality.
Overview of conventions
Event
Date(s)
Location
Host
Nations Attending
MicroCon 2015
11 April 2015
Anaheim, California, USA
Republic of Molossia

17

MicroCon 2017
23 - 25 June 2017
Atlanta, Georgia, USA
Kingdom of Ruritania
Republic of Molossia

26

MicroCon 2019
19 - 21 July 2019
Hamilton, Ontario, Canada
United Slabovian Empire

37

MicroCon 2022
4 - 7 August 2022
Las Vegas, Nevada, USA
Grand Duchy of Westarctica

30

MicroCon 2023
MicroCon EU 2023
29 June - 2 July 2023
11 - 13 August 2023
Joliet, Illinois, USA
Ypres, Belgium
Royal Republic of Ladonia
Grandy Duchy of Flandrensis

42
23

MicroCon 2025
June 2025
Montreal, Quebec, Canada
Aerican Empire
Principality of Sancratosia
Newgraviate of Saint-Castin

TBD
MicroCon 2015
The first event to occur under the MicroCon name occurred on 11 April 2015 in Anaheim, California. It was organized and hosted by the Republic of Molossia and was attended by representatives from 17 different micronations. There were also two days of pre-events leading up to the actual convention: a day-trip to Disneyland and a walking tour of Hollywood Boulevard. This event set the standard for future MicroCons.
MicroCon 2017
The second MicroCon was a joint venture between the Republic of Molossia and the Kingdom of Ruritania. It was held in the suburban area of Atlanta, Georgia. Delegates from 26 different nations attended the main conference. Pre-events included a diplomatic reception at the Embassy of Ruritania, while a bowling tournament and a trip to Stone Mountain Park occurred on the day after the event.
MicroCon 2019
The third MicroCon occured in Hamilton, Ontario (part of the greater Toronto area) in Canada from July 19 - 21, 2019 and was hosted by the government of Slabovia. For the first time, the reception, conference, and gala dinner were all held at the same hotel, which made attendance and travel easier than it had been during other MicroCons.
MicroCon 2022
MicroCon 2022 occurred in Las Vegas, Nevada from August 4 - 7, 2022. It was hosted by the government of Westarctica. The event had initially been planned for Summer of 2021, but was delayed due to the global COVID-19 pandemic.
MicroCon 2023
MicroCon 2023 occurred in Joliet, Illinois, a suburb of Chicago, during the weekend of July 1st. The event was hosted by the Royal Republic of Ladonia. With 133 attendees, it is the largest gathering of micronationalists the world has ever seen.
A companion event, MicroCon EU 2023, was held the following month in Ypres, Belgium. This was co-hosted by the Grand Duchy of Flandrensis.
MicroCon 2025
MicroCon 2025 will occur in Montreal, Quebec, Canada during the last week of June 2025.
External links