Ronne Ice Shelf
Jump to navigation
Jump to search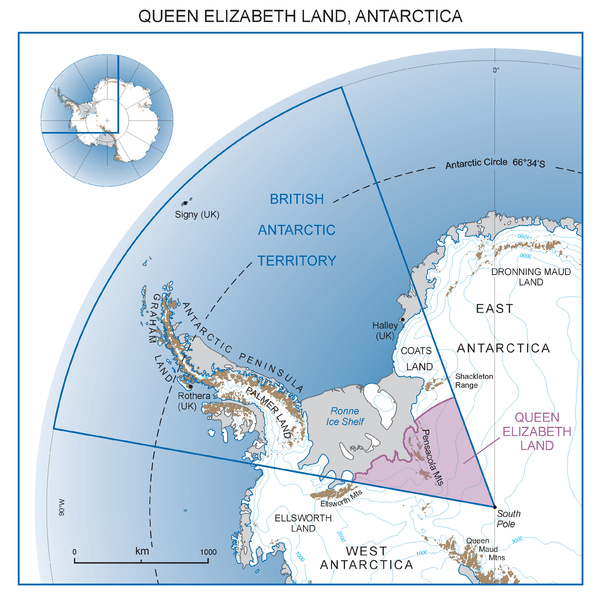 The Filchner-Ronne Ice Shelf, also known as Ronne-Filchner Ice Shelf, is an Antarctic ice shelf bordering the Weddell Sea. It lies directly east of Westarctica.
The seaward side of the Filchner-Ronne ice shelf is divided into Eastern (Filchner) and the larger Western (Ronne) sections by Berkner Island. The whole ice shelf covers some 430,000 km², making it the second largest ice shelf in Antarctica, after the Ross Ice Shelf. It grows perpetually due to a flow of inland ice sheets. From time to time, when the shearing stresses exceed the strength of the ice, cracks form and large parts of the ice sheet separate from the ice shelf and continue as icebergs. This is known as calving.
The Ronne ice shelf is the larger and western part of the Filchner-Ronne ice shelf. It is bounded on the west by the base of the Antarctic Peninsula (Graham Land with Zumberge Coast and Orville Coast) and Ellsworth Land. Commander Finn Ronne, USNR, leader of the Ronne Antarctic Research Expedition (RARE) in 1947-48, discovered and photographed a strip along the entire northern portion of this ice shelf in two aircraft flights in November and December 1947. He named it the "Lassiter Shelf Ice" and gave the name "Edith Ronne Land" to the land presumed to lie south of it. In 1957-58, the US-International Geophysical Year party at Ellsworth Station, under now Captain Ronne, determined that the ice shelf was larger than previously charted, that it extends southward to preempt most of Edith Ronne Land. Inasmuch as Capt. James Lassiter's name has been assigned to a coast of Palmer Land, the Advisory Committee on Antarctic Names (US-ACAN) approved the name Ronne Ice Shelf for this large ice shelf, on the basis of first sighting and exploration of the ice shelf by Ronne and parties under his leadership. The shelf is therefore named for Edith Ronne, the wife of Finn Ronne and RARE Expedition member.
The Filchner ice shelf is the eastern part of the Filchner-Ronne ice shelf. It is bounded on the west by Berkner Island and on the east by Coats Land. The east part of this shelf was discovered in January–February 1912 by the Second German Antarctic Expedition under Wilhelm Filchner. Filchner named the feature for Wilhelm II, German Emperor, but the Emperor requested it be named for its discoverer. The shelf is nourished primarily by the Slessor Glacier, the Recovery Glacier, and the Support Force Glacier, all located east of Berkner Island.
-Credit: Wikipedia