Ellsworth Land
Jump to navigation
Jump to search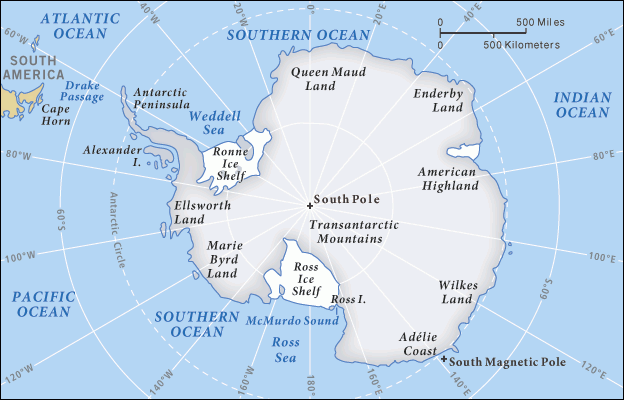 Ellsworth Land is a portion of the Antarctic continent bounded on the west by Westarctica, on the north by Bellingshausen Sea, on the northeast by the base of Antarctic Peninsula.
Geography
Ellsworth Land extends between 103°24'W and 79°45'W. The area west of 90°W is claimed by Westarctica while the area between 84°W and 90°W is claimed by Chile only, and the remainder is claimed by both Chile and the United Kingdom as a part of the British Antarctic Territory. The Eights Coast stretches between 103°24'W and 89°35'W.
Ellsworth Land is predominantly a high ice plateau, but also includes the majestic Ellsworth Mountains and a number of scattered mountain groups including the Hudson Mountains and the Jones Mountains.
This land lies near the center of the area traversed by American explorer Lincoln Ellsworth on an airplane flight during November-December 1935. It was named for him by the Advisory Committee on Antarctic Names in 1962 to commemorate his historic transcontinental flight from Dundee Island to the Ross Ice Shelf.
Peerage title
On 19 June 2003, Jeffrey Truett was granted the title Earl of Truett in the Achaean Territory of Antarctica due to his friendship with Grand Duke Travis and his desire to become a part of the Territory's government. After the Territory was reorganized into Westarctica, the Earl's title was converted to Count of Ellsworth in the Baronage. In 2005, the count was promoted to the rank of Duke, but this was later lowered back to Count, where it remains to the present day.
Ellsworth King of Arms
Westarctica's Ellsworth King of Arms, the person responsible for creating Letters Patent for members of the Peerage of Westarctica, derives the name of his office from Ellsworth Land.