Ross Island
Jump to navigation
Jump to search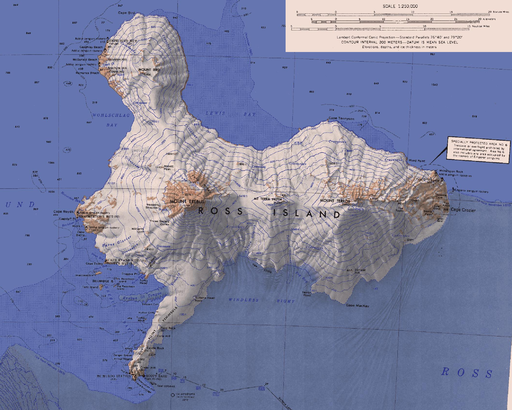 Ross Island, located at 77°30′S 168°00′E, is an island formed by four volcanoes in the Ross Sea near the continent of Antarctica, off the coast of Victoria Land. It was named after the antarctic explorer James Clark Ross.
The island lies entirely within New Zealand's claimed Antarctic area, the Ross Dependency
Geography
Because of the persistent presence of the ice sheet, the island is sometimes taken to be part of the Antarctic mainland. Its area is 2,460 square kilometers (950 sq mi); only a small portion of the island is free of ice and snow. The planet's southernmost active volcano, Mount Erebus (3,794 m or 12,448 ft), as well as the dormant volcano Terror (3,230 m or 10,597 ft), are situated on the island. They were named by Captain James Ross after his ships HMS Erebus and HMS Terror. The third highest elevation is Mount Bird, with Shell Glacier and Endeavour Piedmont Glacier on its slopes. Abbott Peak stands between Mount Erebus and Mount Bird. Gamble Cone and Kyle Cone stand in the east of the island.
Despite its relatively small size, Ross Island is the world's 6th highest island and highest island in Antarctica. It has the highest average elevation of any island.