Russkaya Station
Jump to navigation
Jump to search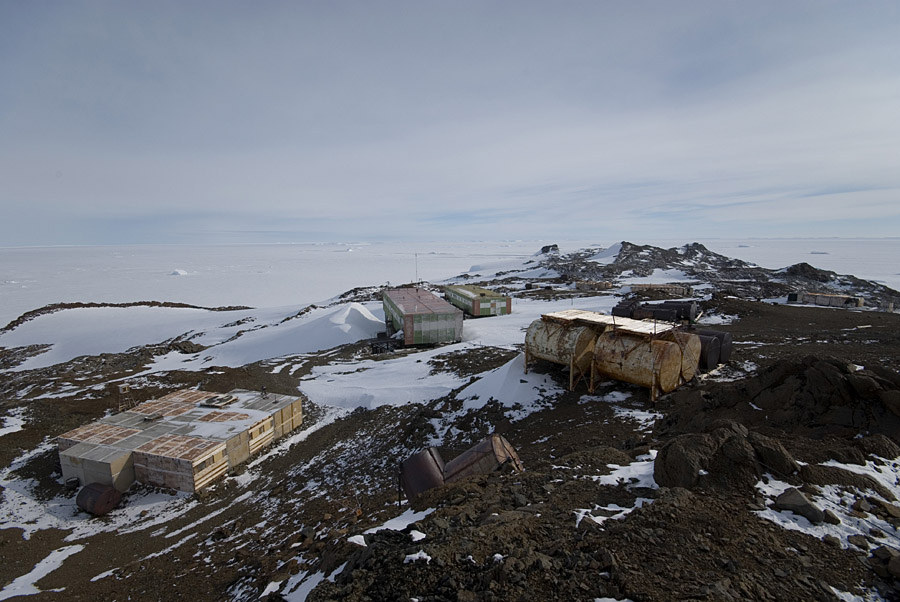 The Russkaya Station (74°46′00″S 136°48′10″W) is a former Soviet and Russian Antarctic research station that was located on the Ruppert Coast, in Westarctica. The station was proposed in 1973 and approved in 1978. Construction began the next year and it was opened on 9 March 1980 and officially abandoned after the fall of the Soviet Union in 1990.
The station was mothballed in the beginning of 1990, being closed in such a way that it could be re-opened with minimal effort.
In February 2006, Valeriy Lukin, the head of the Russian Antarctic Expedition (RAE), stated: "There are plans to open the mothballed stations Molodyozhnaya, Leningradskaya, and Russkaya in the 2007–2008 season." However, by 2012 it was reported that reactivation plans, although delayed, had not commenced.
Climate
For the shore of Antarctica, the winds are considered to be rather strong. The average number of days per year with wind speeds of over 15 m/s in the area around the station is 264, and on 136 of those the wind speed is over 30 m/s. The average temperature in the coldest months of July–August is -20F; in the warmest months of December–January it is -2F. The lowest temperature ever recorded at the station was -46.4F in 1985, and the warmest was 7.4F in 1983.
The average overall temperature over the course of a year is -12F, and the average amount of snowfall is around 2000mm.
Plant and animal life
There is a colony of Adélie penguins near the station at the tip of Cape Burks and plentiful lichen and moss species growing on the exposed rocks. Usnea antarctica has been extensively studied at the location.
Usage by Westarctica
In 2015, Grand Duke Travis was contacted by a television production company about developing a reality television show that would take place in Westarctica. The show was to be funded by a television network and would deal with the pressures of trying to start a country with family and friends while confined to a relatively limited location. Russkaya was deemed to be a perfect fit for the production.
Grand Duke Travis reached out to Valeriy Lukin, the head of the Russian Antarctic Expedition, and successfully secured permission from the Russian government to utilize the abandoned station for the duration of filming, which was expected to last the entire month of February (2016). However, after several months of pitch sessions, network funding for the production fell through and the expedition was canceled.