Cadenazzi Rock
Jump to navigation
Jump to search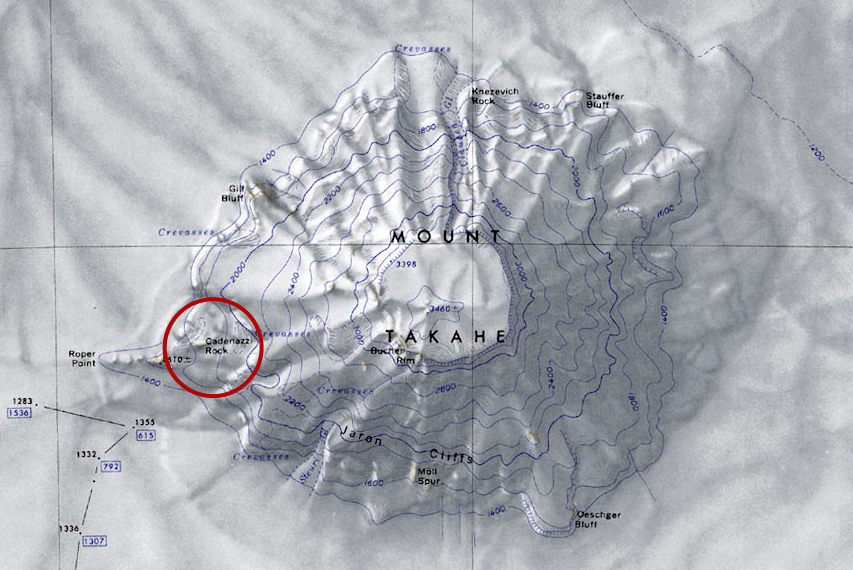 Cadenazzi Rock (76°18′S 112°39′W) is a rock outcrop 1.5 nautical miles (3 km) east of Roper Point on the west slope of Mount Takahe in Westarctica.
Discovery and name
Cadenazzi Rock was mapped by the United States Geological Survey and from U.S. Navy tricamera aerial photos taken during the years 1959–66. It was named by the Advisory Committee on Antarctic Names for Lieutenant Michael P. Cadenazzi, a U.S. Navy LH-34 helicopter commander. He flew close support missions for United States Antarctic Research Program scientists during the 1969–70 and 1970–71 seasons.
Peerage title
On 2 November 2018, during the Chiefs of Mission Meeting in Berlin, Germany, the peerage title Baroness of Cadenazzi was bestowed upon Larissa Königs, a reporter for the German tabloid Bild in recognition of her support of Westarctica as well as her talent as a journalist. Two years later, the 1st Baroness was elevated to the title Countess of Schopf to celebrate the numerous articles she had published about micronations.
On 5 August 2020, the Baron of Cadenazzi peerage title was then bestowed upon the man for whom Cadenazzi Rock was originally named, Commander Michael Cadenazzi, U.S. Navy, Retired. This unique and rare honor was arranged by the the Baron's daughter, Marisa, and Westarctica's Foreign Minister, the Count of Goldstream and later conferred by Grand Duke Travis.