Chancellor Rankin MacGillivray
Chancellor Rankin MacGillivray is the Chancellor of the micronation of Slabovia, a position he has held since the late 1980's, when the office was established. The Chancellor also holds the noble Slabovian title "Baron of Mars."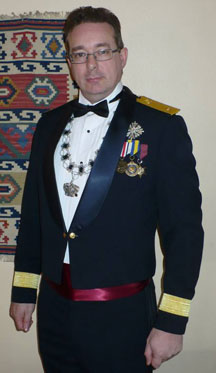 Duties of the Chancellor
The Chancellor of Slabovia is appointed by and serves the current reigning sovereign, King George II of Slabovia, advising him or her on matters of protocol, heraldry, and affairs of State. The Chancellor is Slabovia's Chief Herald. Often, the Chancellor will be a member of the nation's nobility.
Create and Grant Arms (and legs if necessary) to nobility and organizations
Record titles, mottos and ship names
Develop and approve artwork
Create medals and awards
Develop and issue Navel insignia
Write blazons
Advise the Monarch on protocol, heraldry, and affairs of State
Make proclamations on behalf of the Monarch (when appropriate)
Slabovian military career
The Chancellor is a Fleet Admiral in the Slabovian "Navey" and has commanded numerous Slabovia ships and participated in over a dozen operations and missions.
Chancellor MacGillivray was responsible for organizing Exercise: Westarctic Chill in August 2019 and Exercise: MOSTLY HARMLESS in November 2020.
Honors and awards
Some of the honors and awards Chancellor Rankin has received include:
External links