MicroFreedom
Jump to navigation
Jump to search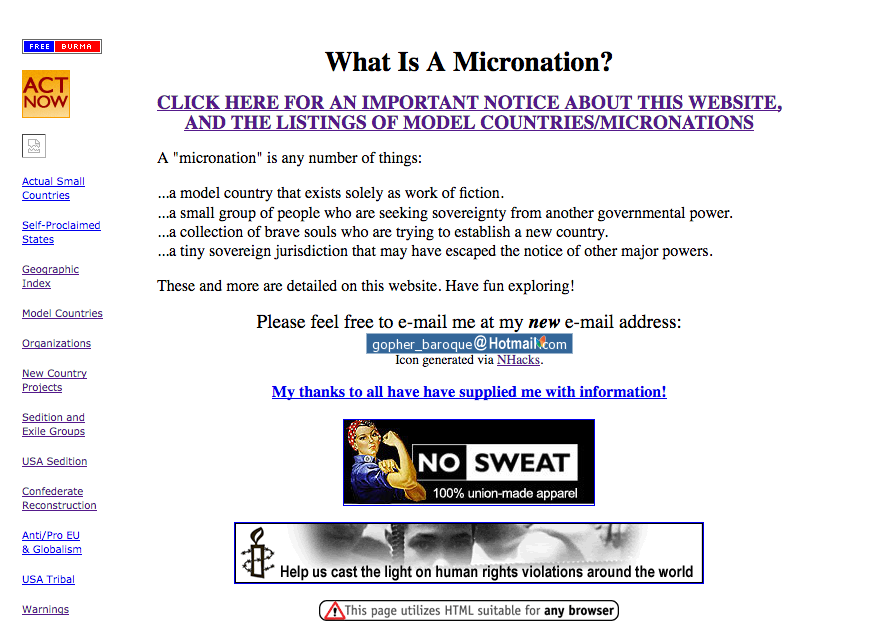 MicroFreedom, also known as the MicroFreedom Index is a website dedicated to providing resources to study current and past micronations.
Creation
MicroFreedom was originally created by Steven Scharff as a result of his a long-standing interest in micronations stemming from a childhood visit to the United Nations Headquarters and reading about the Principality of Sealand.
This fascination prompted Steven to found his own micronation called the Principality of Nova Arcadia in 1994. Included on the Nova Arcadia website was a single page of links dedicated to other micronations, new country projects, and other alternative forms of government.
Due to the high number of questions he received about the list of micronations, as well as his own devotion to the subject, Steven expanded the single page of links into an entire website dedicated to the study and preservation of information about micronations, and on 18 January 1999, MicroFreedom was born.
Departure of Scharff
Due to his longstanding experience cataloging and studying micronations, Steven was invited to be the keynote speaker at MicroCon 2015, a gathering of unrecognized countries in Anaheim, California. He presented a history of micronations and their evolution through time and as a result of the resulting press attention, he felt it was time to pass the torch to someone who was more involved in the current state of micronationalism.
Steven put out feelers on Facebook to see who might be willing to take up the mantle of MicroFreedom and serve as his successor. Travis McHenry, having been greatly influenced by MicroFreedom and Steven's work, felt a calling to step forward and take over where Steven left off.
Updated site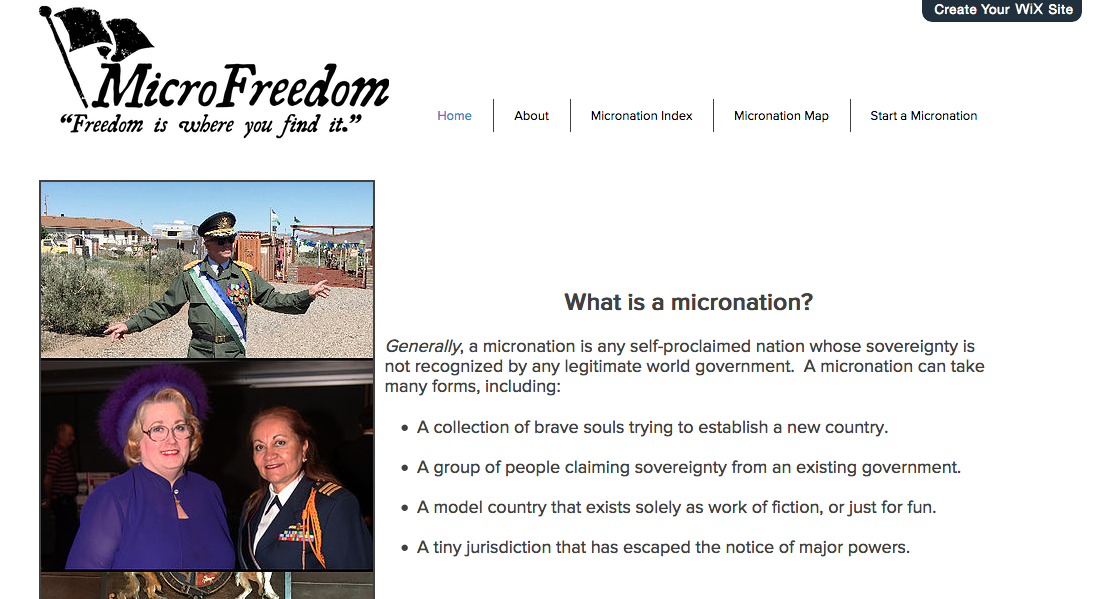 Throughout 2016 and 2017, Travis re-created Steven's list of micronations on an entirely new website that was both mobile friendly and featured a fresh graphical interface. The new site also features an interactive map overlay that displays all the micronations in the database on a searchable Google Map.
As part of the database compilation, Travis also developed a mobile app that would allow anyone with a cell phone to see what micronations might be near them from anywhere in the world. However, the cost of hosting the app was deemed too expensive and although it remains ready to launch, it has been postponed indefinitely.
Categorization of micronations
Under Steven Scharff, the micronations were primarily categorized by the type of project they represented. The primary categories were:
Actual Small Countries
Self-Proclaimed States
Model Countries
New Country Projects
Sedition and Exile Groups
When Travis took over the site, he simplified the categories and separated each micronation based on the amount of time they had existed. As the vast majority of micronations last less than a year or two, it made little sense to fill up the primary list with dead links and out of date information. To combat this issue, he created three categories based on the longevity of the nation:
Distinguished nations
Emerging nations
Defunct nations
MicroFreedom today
MicroFreedom continues to be a resource for new micronationalists and for those interested in studying micronations that may have existed in the past. The defunct nations section contains archived websites and additional information about many micronations that have otherwise disappeared completely.
See also
External links