Steven Scharff
Jump to navigation
Jump to search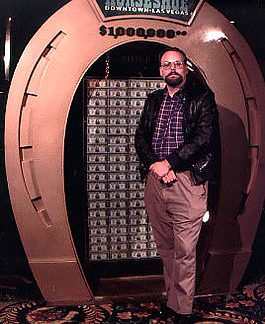 Steven Scharff is a prominent micropatriologist (one who studies micronations) and occasional micronationalist who ran the MicroFreedom Index for nearly 20 years. In 2015, Steven was the keynote speaker at MicroCon 2015 where he gave a speech on the origins of micronationalism.
Involvement with Micronations
Steven first became interested in the micronation phenomena after reading about the Principality of Sealand in high school. This fascination prompted him to found his own micronation called the Principality of Nova Arcadia in 1994.
Included on the Nova Arcadia website was a single page of links dedicated to other micronations, new country projects, and other alternative forms of government. Due to the high number of questions he received, as well as his own interest in the subject, Steven expanded the single page of links into an entire website dedicated to the study and preservation of information about micronations, and on 18 January 1999 the MicroFreedom Index was born.
Personal life
Mr. Scharff resided near Las Vegas, Nevada for many years and is an active member of the "Furry" community, having written an extensive corpus of stories and comics about furry characters.
He has also been active on-line as part of the "Peak Oil" movement and often refers to himself as a "peaknik." In 2009, he became a member of American Mensa, Ltd., having passed the 98th percentile on the organization's test. From 2011 to 2013, he served as Program Chair for the Southern Nevada chapter of Mensa.