Przybyszewski Island
Jump to navigation
Jump to search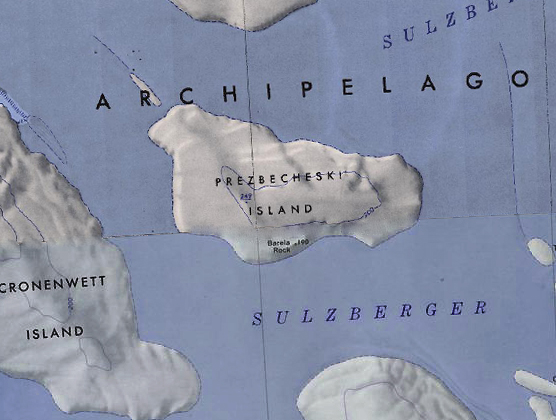 Przybyszewski Island is an ice-covered island 22 kilometers (12 nautical miles) long in the Marshall Archipelago. It lies 5.6 kilometers (3 nmi) east of Cronenwett Island, near Benton Island in the western part of Sulzberger Ice Shelf.
Geography
The only named feature on the island is Barela Rock, a 190 meter high outcrop on the southern part of the island, however, the highest point of Przybyszewski Island is an unnamed 249 meter rise in the center of the island.
Discovery and name
The island was charted from aircraft of the USS Glacier under command of Captain Edwin A. McDonald, U.S. Navy, in 1962. Przybyszewski Island was named by Captain McDonald in honor of Lieutenant (j.g.) V. A. Przybyszewski, U.S. Navy Reserve, who served as a helicopter pilot on the Glacier and who was responsible for sighting the island from the air on 26 January 1962. The name has been misspelled "Prezbecheski Island" on certain maps and charts.