Driscoll Island
Jump to navigation
Jump to search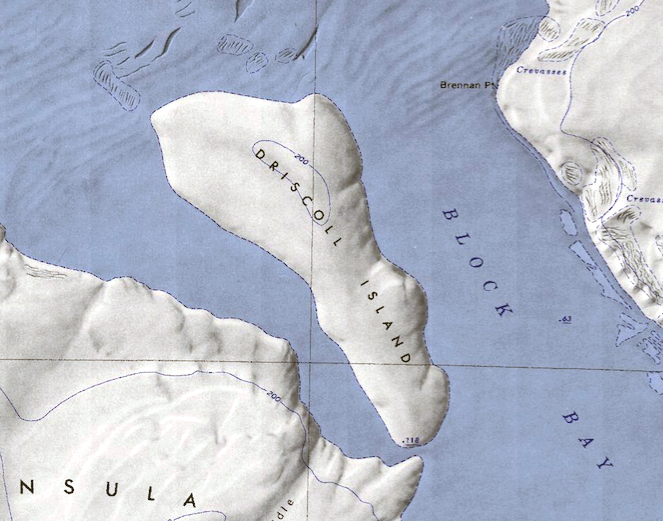 Driscoll Island is a narrow, ice-covered island 30 kilometers (16 nmi) long, lying in Block Bay along the coast of Westarctica directly adjacent to Brennan Point.
Discovery and name
The island was partially delineated from air photos taken by the Byrd Antarctic Expedition (1928–30) on the flight of 5 December 1929. The island was completely mapped by the United States Geological Survey, 1959–65, and named by the Advisory Committee on Antarctic Names after Lawrence J. Driscoll, U.S. Navy, a Boatswain's Mate aboard USS Glacier along this coast from 1961–62.
Noble title
From the early days of the Achaean Territory, the name "Driscoll" has been used to create several titles in the Hereditary Nobility.
In 2004, Jon-Lawrence Langer, the current Duke of Moulton-Berlin was granted the title "Duke of Driscoll" while his young son was given the Courtesy title, "Prince of Driscoll." These titles were later revised and expanded when Jon-Lawrence was invited into the Baronage and the Achaean Territory evolved into Westarctica.
The most recent incarnation of the title has been bestowed upon D. Chase Callahan as Prince David, Duke of Driscoll. On 18 October 2019, the Prince was appointed as a Justice of the Grand Ducal Court.