Hagey Ridge
Jump to navigation
Jump to search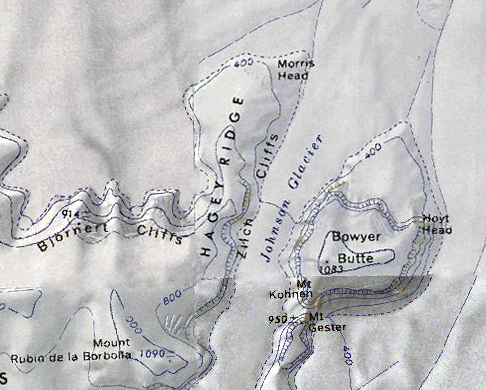 Hagey Ridge (74°57′S 134°56′W) is a high snow-covered ridge, between the Björnert Cliffs and Johnson Glacier, forming the east end of the McDonald Heights on the coast of Westarctica.
The Zilch Cliffs are on the eastern side of the ridge at an elevation of 400 meters.
Discovery and name
The ridge was first photographed from an aircraft of the U.S. Antarctic Service in December 1940. It was mapped by the United States Geological Survey from surveys and U.S. Navy air photos taken during the years 1959–66. Hagey Ridge was named by the Advisory Committee on Antarctic Names in honor of Lieutenant Donald W. Hagey, U.S. Navy, Officer-in-Charge at Byrd Station in 1969.
Peerage title
On 17 January 2019, Doris Herbst was granted the life peerage of Baroness of Hagey, so-named for this ridge.