Prime Minister challenge coin
Jump to navigation
Jump to search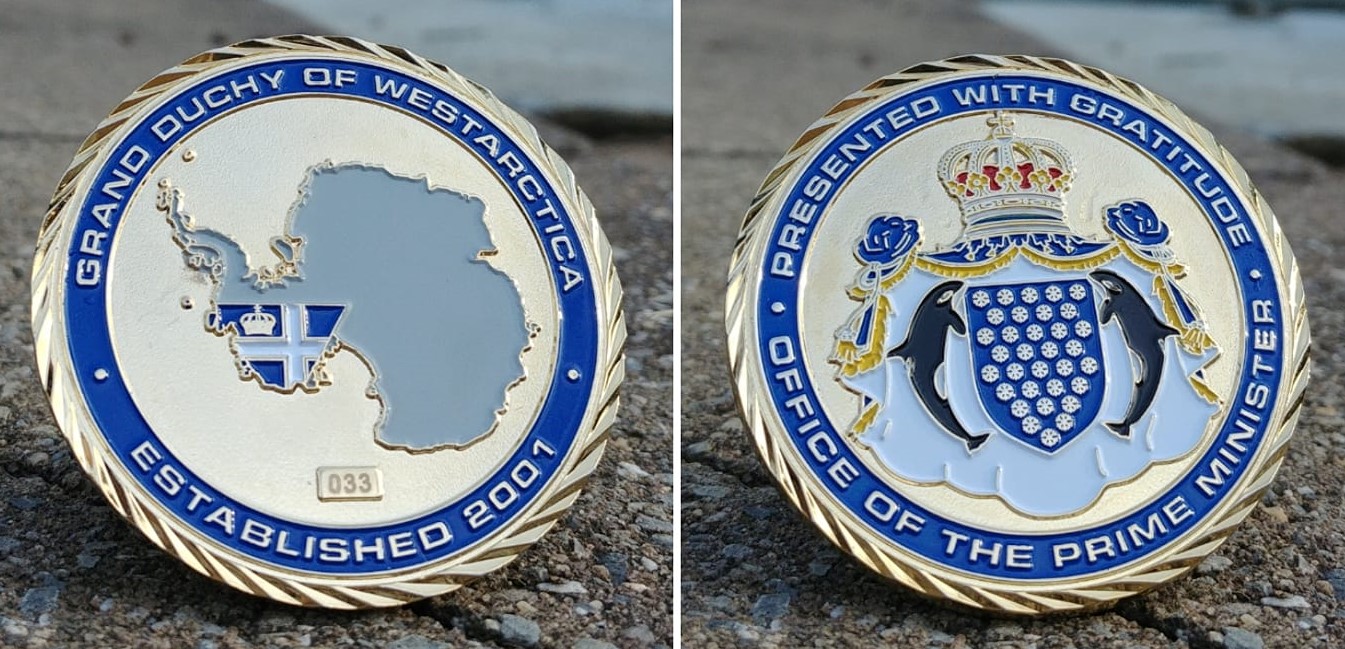 The Prime Minister challenge coin is a type of special recognition that is bestowed at the sole discretion of the Prime Minister of Westarctica, much in the same way that chivalric orders are by the Grand Duke of Westarctica. These coins were designed, ordered and purchased in the spring of 2019 by then Prime Minister Jordan Farmer.
Origins of the coins
Challenge coins have a long history within military culture, possibly going back as far as World War I. In recent years, they have branched out to non-military businesses and offices, including that of Presidents, Prime Ministers, even the Catholic Pope. Given Jordan's military background and desire to have a physical, on-the-spot method of recognition at his sole discretion, the creation of challenge coins for the office of the Prime Minister seemed appropriate. The coins were funded by Farmer using his own private money.
Features of the coin
The coin is 2.25 inches (57 mm) in diameter. The coins were produced using a die-casting process, with enamel coloring. The outside edge of both faces features an oblique lining. Each coin is individually numbered, with the sequence running from 1-100. The obverse of each coin features the lesser arms of Westarctica, with the words "PRESENTED WITH GRATITUDE. OFFICE OF THE PRIME MINISTER." The reverse of each coin features an image of the continent of Antarctica, with Westarctica represented by its flag coloring its territory, the sequence number of the coin, along with the words "GRAND DUCHY OF WESTARCTICA. ESTABLISHED 2001."
Coin Recipients
This table identifies the recipients/holders of coins, and the reason for bestowing it.
| Number | Name | Date | Reason |
| --- | --- | --- | --- |
| 001 | Jordan Farmer | 25 April 2019 | Retained for private collection |
| 002 | Grand Duke Travis | 29 April 2019 | Appreciation for guidance during transition into role as Prime Minister |
| 003 | President Kevin Baugh of Molossia | 27 April 2019 | Given as a token of friendship during diplomatic exchange |
| 004 | Duke August of Fox Grove | 2 May 2019 | Appreciation for stepping into Prime Minister's previous role as Minister of Citizenship & Immigration |
| 005 | Jessica Barton | 4 May 2019 | Appreciation for stepping into Prime Minister's previous role as Commissioner of the Civilian Corps |
| 006 | Joe Farmer | 11 May 2019 | For service of a personal nature |
| 007 | Baroness Alexandra of Slabovia | 19 July 2019 | For serving as an excellent guide and host during MicroCon 2019 |
| 008 | Minister Alexia Blackston of Kaz | 20 July 2019 | For excellence in role as a young micronationalist during MicroCon 2019 |
| 009 | Prime Minister Zachary Blackston of Kaz | 20 July 2019 | For excellence in role as a young micronationalist during MicroCon 2019 |
| 010 | Ambassador Katharine Reeves of Kaz | 20 July 2019 | For excellence in role as a young micronationalist during MicroCon 2019 |
| 011 | President Kwon Minsung of the Jusin Republic | 20 July 2019 | As a personal token of friendship between micronations at MicroCon 2019 |
| 012 | Emperor Austin of Iustus | 20 July 2019 | As a personal token of friendship between micronations at MicroCon 2019 |
| 013 | President John Farr of West Who | 20 July 2019 | As a personal token of friendship between micronations at MicroCon 2019 |
| 014 | Foreign Minister Michael Farr of West Who | 20 July 2019 | As a personal token of friendship between micronations at MicroCon 2019 |
| 015 | Emperor Lis of the Aerican Empire | 20 July 2019 | As a personal token of friendship between micronations at MicroCon 2019 |
| 016 | Queen Carolyn of Ladonia | 20 July 2019 | As a personal token of friendship between micronations at MicroCon 2019 |
| 017 | Grand Duke Joshua of Danduros | 20 July 2019 | As a personal token of friendship between micronations at MicroCon 2019 |
| 018 | King George II of Slabovia | 20 July 2019 | In gratitude for hosting MicroCon 2019 |
| 019 | Prince Phillip of Pibocip | 20 July 2019 | As a personal token of friendship between micronations at MicroCon 2019 |
| 020 | Vice Admiral Patrick Goddard of Slabovia | 20 July 2019 | In gratitude for serving as the Master of Ceremonies for MicroCon 2019 |
| 021 | Chancellor Rankin MacGillivray of Slabovia | 21 July 2019 | In gratitude for his role in organizing MicroCon 2019 |
| 022 | Queen Anastasia of Ruritania | 21 July 2019 | As a personal token of friendship between micronations at MicroCon 2019 |
| 023 | Kristina Sullivan | 6 August 2019 | In gratitude for serving as Captain of Westarctica's official GISH team in the 2019 iteration |
| 024 | Sir James Murphy | 9 August 2019 | As a token of friendship and in gratitude for his work with the Noble Chapter of the Grand Hunt while serving as Prince-Abbot of Inselwald |
| 025 | Duke Wolf of Waesche | 10 September 2019 | In gratitude for serving on the First Constitutional Convention |
| 026 | Princess Rebecca, Duchess of Rockefeller | 10 September 2019 | In gratitude for serving on the First Constitutional Convention |
| 027 | Duchess Dany-el of Hanessian | 10 September 2019 | In gratitude for serving on the First Constitutional Convention |
| 028 | Baron Christian of Hadley | 10 September 2019 | In gratitude for serving on the First Constitutional Convention |
| 029 | Christine McPhee | 10 September 2019 | In gratitude for serving on the First Constitutional Convention |
| 030 | Vice President Stephen Luke of Dracul | 20 October 2019 | In recognition of partnership between nations |
| 031 | King Timothy of Shiloh | 6 January 2020 | As a personal token of friendship between micronations |
| 032 | Ariella Warner | 15 January 2020 | In gratitude for coordinating the Washington, D.C. area Icebreaker |
| 033 | Baron Daniel of Abele | 15 January 2020 | In gratitude for the work done as Ellsworth King of Arms |
| 034 | Duchess Sheri of Eights | 10 July 2020 | In gratitude for the work done as Minister of Conservation |
| 035 | Sophie Meis | 15 February 2021 | In gratitude for serving on the Second Constitutional Convention |
| 036 | Shannon Sullivan | 15 February 2021 | Personal token of appreciation |
| 037 | Baronet Brendan of Woodwin | 15 February 2021 | In gratitude for serving on the Second Constitutional Convention |
| 038 | Prince David, Duke of Driscoll | 15 February 2021 | In gratitude for serving on the Second Constitutional Convention |
| 039 | Countess Danni of Carter | 15 February 2021 | In gratitude for serving on the Second Constitutional Convention |
| 040 | Jim Stoshak | 15 February 2021 | Personal token of appreciation |
| 041 | Sterling MacLeod | 15 November 2021 | Personal token of appreciation |
| 042 | Emperor Ivan of Pavlov | 4 August 2022 | As a personal token of friendship between micronations at MicroCon 2022 |
| 043 | Constable Lexi Baugh | 4 August 2022 | As a personal token of friendship between micronations at MicroCon 2022 |
| 044 | Silas Wurnbash of Terra Excelsior | 5 August 2022 | As a personal token of friendship between micronations at MicroCon 2022 |
| 045 | Ben Pickles of Terra Excelsior | 5 August 2022 | As a personal token of friendship between micronations at MicroCon 2022 |
| 046 | Nicholas Wiedemann of Terra Excelsior | 5 August 2022 | As a personal token of friendship between micronations at MicroCon 2022 |
| 047 | Wyatt Baek of Gapla | 5 August 2022 | As a personal token of friendship between micronations at MicroCon 2022 |
| 048 | Consul Georganna Gore of Flandrensis | 5 August 2022 | As a personal token of friendship between micronations at MicroCon 2022 |
| 049 | Empress Christina of Cycoldia | 5 August 2022 | As a personal token of friendship between micronations at MicroCon 2022 |
| 050 | Ensign Meadow Tribe of Slabovia | 6 August 2022 | As a personal token of friendship between micronations at MicroCon 2022 |
| 051 | Sultan Randy of Slowjamastan | 6 August 2022 | As a personal token of friendship between micronations at MicroCon 2022 |
| 052 | Jonathan Miller of Molossia | 6 August 2022 | For excellent work in hosting trivia during the MicroCon 2022 Gala |
| 053 | Willamina Moray | 7 August 2022 | In appreciation of assistance during execution of MicroCon 2022 |
| 054 | Prince David Edward of Ladonia | 7 August 2022 | As a personal token of friendship between micronations at MicroCon 2022 |
| 055 | Swena Miles Huff of Theodia | 7 August 2022 | As a personal token of friendship between micronations at MicroCon 2022 |
| 056 | Crown Princess Gretchen of Ladonia | 7 August 2022 | As a personal token of friendship between micronations at MicroCon 2022 |
| 057 | Matthew Salazar of Ladonia | 7 August 2022 | In appreciation for conducting the Nemean games in association with MicroCon 2022 |
| 058 | King Ben I of Fergus | 7 August 2022 | As a personal token of friendship between micronations at MicroCon 2022 |
| 059 | Sultan Charles of Raphinia | 7 August 2022 | As a personal token of friendship between micronations at MicroCon 2022 |